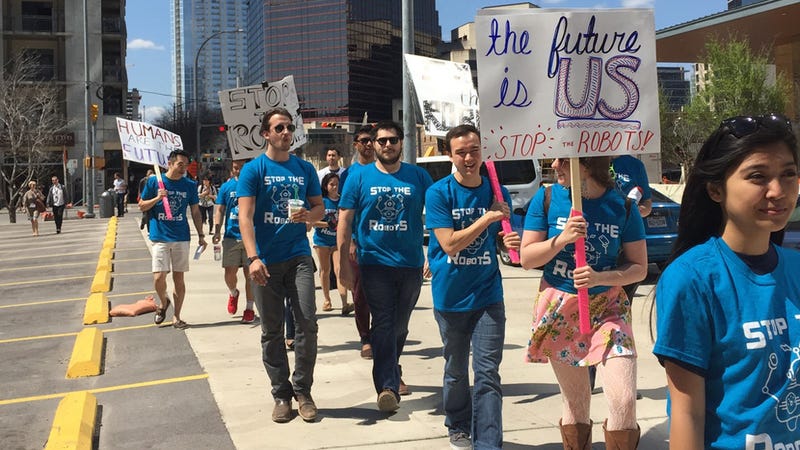 When a group of plucky students organized a protest at SXSW against the rising threat of artificial intelligence, they got a ton of attention. Including interviews on NPR and the BBC. A grassroots anti-robot protest seemed almost too good to be true. And it's looking like maybe it was. [Updated!]
Top image via Stop The Robots
The Stop The Robots protest group, with its slick website, nicely printed T-shirts and carefully crafted messaging, certainly looks a lot like a viral marketing stunt. But what for? One strong candidate is Terminator Genisys, the next movie about the killer supercomputer Skynet, coming this summer. Another likely possibility is Ex Machina, a British film about an android that achieves artificial intelligence, coming to the States on April 10.
[Update: A publicist for Ex Machina tells us this group has nothing to do with that movie, whatsoever.]
[Update #2: It's a marketing stunt for a new app. Yup. Scroll down for the details.]
But is it actually viral marketing, or just a really well organized grassroots movement? After we wrote about the Stop The Robots protest earlier today, we started to question the reality of what we'd written about. Everything we found cast doubt on the reality of this organization.