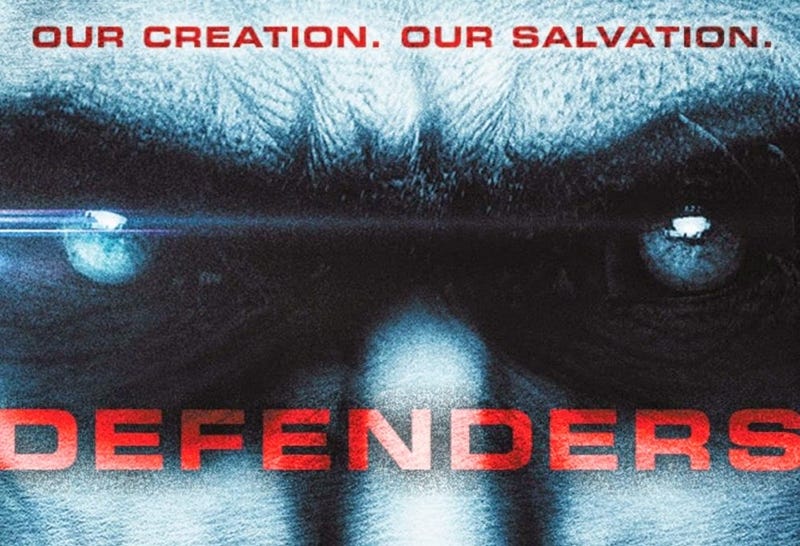 What do you do when telepathic aliens invade Earth? You can't fight them: They know what you're doing almost before you do. You can't use robots against them, because they can't improvise. You can't surrender: They're trying to take your place. To save themselves from the Lutyen invasion, humanity creates the Defenders.
Based on a short story from Lightspeed Magazine, Defenders by Will McIntosh is a troubling, brilliant look at what lengths we'll go when our back is to the wall, and how those choices can come back to haunt us.
Some spoilers ahead.
Humanity is being continually pushed back by the Lutyens. They're starfish-like aliens who arrived at Earth with intentions to make it a new home, only realizing that it was inhabited once they were committed to the journey. They're telepathic, and reading us, they knew what our reaction would be: fight. Upon landing, they began a low-intensity war to gain a foothold. Humanity found itself on the ropes, and turned to desperate measures to survive: the Defenders.
It's a little like the premise of last year's Pacific Rim: "To fight monsters, we created monsters," read one of the taglines. Here, machines and robotics wouldn't cut it: they can't improvise to the level that's needed to combat the aliens. So, the Defenders were grown. Based on human DNA and 16 feet tall with three legs, they have no serotonin, preventing the invaders from reading their minds. It's effective, but leaves them with some crippling drawbacks: they're stunted emotionally, maintain a violent sense of ego and a lack of humor. Designed with an intense hatred of the Lutyen, they're deployed to the battlefield as a sort of fifth column. Highly intelligent, trained for warfare and armed to the teeth, they're set apart from the humans they've been built to protect. Unable to read their new enemies, the Lutyen are slowly beaten back, until they surrender.
And then, we reach the end of the first third of the novel, where McIntosh shifts into high gear. The Defenders, heroes after the war, are given the entire continent of Australia. The surviving Lutyen are handed over to them, and the continent is closed off to outsiders. Fifteen years later, humanity is invited back, only to find that their saviors now want more — and that we're not willing to live alongside the weapons we built.
A number of years ago, I wrote a column on io9 about how military SF never quite picks up the deep background elements of how war is conducted, and it's nice to see a book that does just that. In Defenders, McIntosh has put together an incredible novel about warfare and its lasting effects, one that poses some incredibly difficult questions along with a great story.