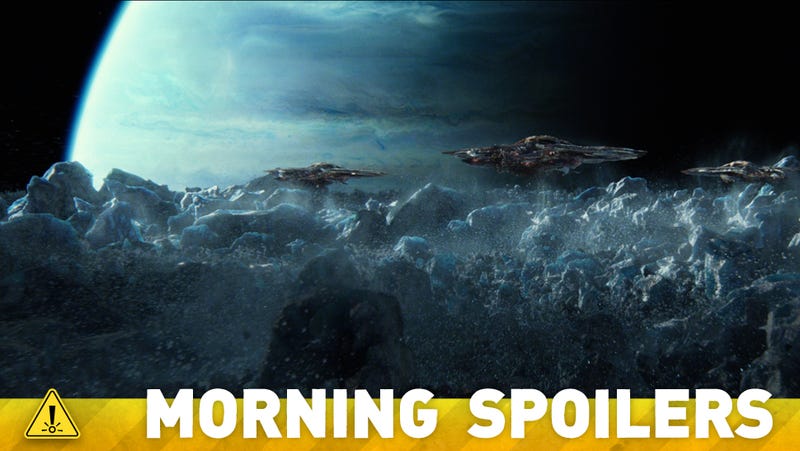 Ben Affleck finally talks Batman, while Jonathan Rhys Meyers responds to rumors he's going to be in Star Wars. James Cameron may hire a former star to play the villain of Avatar 2. An American Horror Story star joins Mockingjay. Thor: The Dark World director Alan Taylor explains why super-advanced Asgardians still ride horses. Spoilers!
Top image from Ender's Game.
Star Wars: Episode VII
The Tudors and Match Point star Jonathan Rhys Meyers has recently been the subject of rumors that say he is under consideration for a role in the new Star Wars movie. (Nobody really seems to have any idea what role, but since this is probably bullshit anyway, that really only matters on the most pedantic of levels.) Anyway, Rhys Meyers responded to the rumors, acknowledging that he does have a working relationship with director J.J. Abrams – he appeared in Mission: Impossible III, which I'd go out on a bit of a limb and say is still the best movie Abrams has directed – but that he "[doesn't] believe rumors." Indeed, based on his further comments at the link, it sounds like the idea of appearing in a massive Hollywood blockbuster just sort of bores Rhys Meyers. [EW]
---
Man of Steel 2
After mentioning he's begun work on the music for Interstellar, composer Hans Zimmer discusses whether he will return to provide the score for the further adventures of Henry Cavill's Superman and Ben Affleck's Batman:
I've just started on "Interstellar," Christopher Nolan's movie, in bits and pieces. I started it in January, but now I really have to go and pay attention. Then I have another little something coming up, but they don't want me to talk about it yet. Then, you know, comes that pesky question. I thought I was done with Batman. I have to think about that. I have to think about how that fits into what I want to do next.

Do you have an open invitation from Warner Bros. to return for "Man of Steel 2"?
It's not really like that. I think it's really important for everybody to always take a deep breath and have a think about it. "Do we really want to embark on this journey?" Because the question really is: Do I have anything new to say? Is there anything I could add that I haven't done already? When we did "Batman Begins," we saw that as an autonomous movie. We never knew we were going to do two and three. Everybody thinks, "Oh, of course you did!" If you think about it, though, we never knew. Like, in "Lord of the Rings," everyone knew that the little guy was going to throw the ring in the volcano. We never had that. At the same time, of course, my mandate was treat each one as an autonomous movie, but you can't shift stylistically quite that much. The fun thing is if you can shift stylistically, that's what you want to do. For better or for worse, you want to reinvent yourself every time. Sometimes it works, sometimes it doesn't.
---
Thor: The Dark World
Director Alan Taylor describes his sequel's take on the world of Asgard, and why there's still room for horses:
"I love doing period stuff, and I was immersed in Game Of Thrones. I was lucky that Marvel seemed to have an appetite for that this time. They'd consciously steered away from that kind of thing in the first one. Because they wanted to make sure they were distinguishing themselves from Lord Of The Rings. They didn't want to be mistaken for that. But by the time I came along it seemed like they were ready to embrace a slightly more historical attitude towards it… In my mind this is an ancient, ancient culture that highly reveres the horse and the culture of the horse. We still use fountain pens because we think they're really cool – it's not like we all use laser pens. So I think there's a living culture that keeps these things. To me the defining thing was that Thor is a superhero amongst many superheroes, but the thing that makes him different is the thing that should be featured in the movie. And that is that he's also a warrior prince from ancient culture."
[SFX]
---
The Avengers: Age of Ultron
Gwyneth Paltrow says she hasn't been contacted by Marvel about appearing in the next Avengers movie, so she's fairly sure Pepper Potts won't be making another cameo this time around. [Hitfix]
---
X-Men: Days of Future Past
Hugh Jackman offers some praise for Bryan Singer's film, makes a mocking reference to his last big ensemble movie – namely, the deeply misconceived Movie 43 – and teases a showdown between Wolverine and Michael Fassbender's young Magneto:
I'm happy that you feel that way, because I think some people are saying, "Ah, this just sounds like an excuse to get all these actors together and make an Avengers-style movie," but the truth is that it's a great script and Bryan is very ambitious to make the best movie of them all. He's got the biggest cast, the biggest budget, and he started it all, so it's his legacy. He's a fan of time-travel movies, and the detail that's gone into it is incredible. I'm quietly confident that it will be the biggest and the best of them all. When I sat there on that panel at Comic Con, and looked down at all the actors, you think, "This might be one of the best ensembles ever assembled"… Apart from Movie 43. [Laughs]

Are we going to see you and Fassbender throw down? You'd have my $15 right there.
It's fair to say we don't get on that well. I get sent back to the past and he has no idea who I am, but you can imagine Wolverine has a bit of fun with that.
---
Avatar 2
Take this one with a grain of salt, but there's a new rumor that says James Cameron is going to reunite with one of his previous stars for the Avatar sequel. Specifically, his Terminator and True Lies muse, the inimitable – which is to say extremely imitable – Arnold Schwarzenegger, is reportedly set to play the sequel's main villain, an evil human general. Given the fairly tepid reaction to the movies Schwarzenegger has made since his return from the political sphere, it certainly seems like this would be a good move for Schwarzenegger, and Cameron has shown some fondness for reteaming with those who have worked with him successfully in the past, which may help explain why he's so intent on bringing his Aliens star Sigourney Weaver back for the sequel, even though her character very much died in the first one. But I'd still remain skeptical about this story until we hear a bit more. [Latino Review]
---
Gravity
Here's a TV spot, featuring a bit of new footage. [Comic Book Movie]
---
Mockingjay
Lionsgate has announced that American Horror Story actress Lily Rabe is joining the two-part adaptation of the final book in The Hunger Games trilogy. She is set to play Commander Lyme, who – according to my 10-second, Google-based research – is "a past victor of an unknown Hunger Games, a Commander of the rebellion in District 2, and a strong independent woman." [Coming Soon]
---
Ender's Game
The studio released some brand new VFX shots, plus a couple of nice propaganda posters, and you can check them out here.