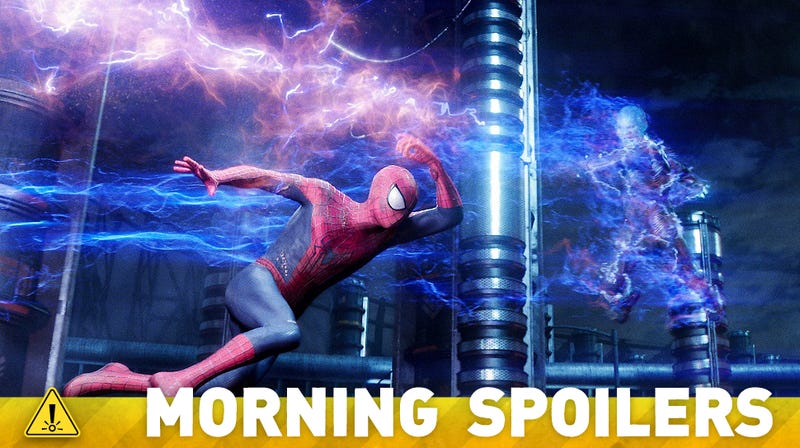 Max Landis wants to add a little Cthulhu to a Houdini biopic. True Blood has recast James. The movie based on Ted Chiang's Story of Your Life has a director. Learn how The Purge 2 will turn the first movie's premise on its head. Plus watch brand new trailers for The CW's The 100 and Star-Crossed, and Syfy's Dominion. Spoilers now!
Amazing Spider-Man
Sony wants to do a slew of movies in the same world as this film, in the vein of the Marvel Cinematic Universe — but who can carry a film besides Spider-Man himself? Given that Sony only has rights to Spidey, his supporting cast, and his villains, it seems likely that one of those villains could be promoted to protagonist.
And indeed, Roberto Orci said that he thinks that they can do spinoffs focusing on "antiheroes":
There's been examples of that even on TV — Vic Mackey on The Shield, one of the greatest antiheroes of all time. There are ways to milk that story. Audiences have seen everything. They've seen all the good guys who never do anything wrong. Is there a story in seeing the other side? That's the challenge, and that's the fun. I'm not sure how we're going to do that yet.
He also commented that the central theme of this universe is going to be the good and bad of science, linked together by Oscorp:
Because Peter becoming Spider-Man came out of [Oscorp], rather than saying, 'And then this alien came from space,' or whatever, they're doing human-hybrid, weird stuff at Oscorp. That's where Gwen Stacy works anyway as well. So the idea of it representing the good and the bad of science, that it can do great things, but it can also mess you up and do weird things and transform people — as all science can be used good or bad. So it's nice to have that organizing principal, but it wasn't like, 'We must keep it at Oscorp.' It flowed naturally from the story development.
Go here for all seven great new stills from the movie, including more from Electro and what looks like Gwen Stacy in trouble. [Coming Soon]