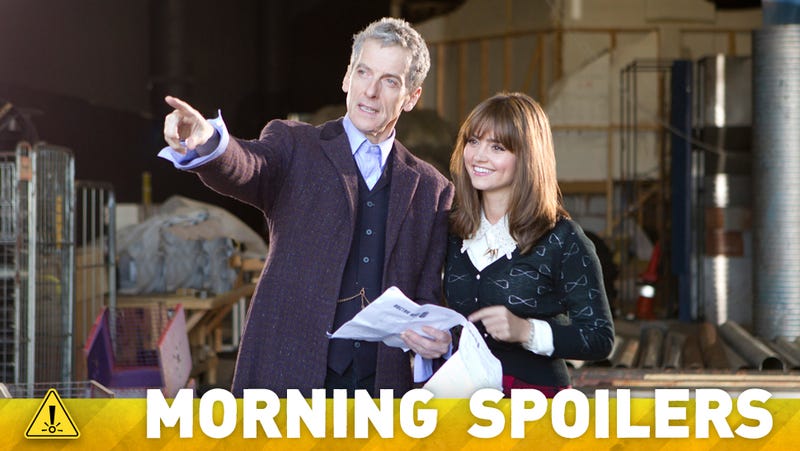 Michael Keaton talks Beetlejuice 2. Check out Jurassic World set photos! A Walking Dead producer hints at a new human villain for the show. Maria Doyle Kennedy promises more Mrs. S in season 2 of Orphan Black. Plus the first looks at a new Star Wars Rebels character and Arrow's Clock King! Spoilers now!
Beetlejuice 2
Michael Keaton sounds like he's ready to get on board, so long as Tim Burton's involved. Keaton told MTV that the two of them have been talking about it a little:
I've e-mailed Tim a couple of times, talked to the writer a couple of times, but all really, really preliminary stuff. I always said that's the one thing I'd like to do again, if I ever did anything again. But it kind of required Tim to be involved some way or another.

. . . Now it looks like he is involved. And without giving too much away we've talked to each other, and e-mailed each other, and if he's in, it's going to be hard not to be in.
As he says, it's early days still, but it looks like this may actually happen. [MTV News]
---
Avengers: Age of Ultron
Given that the Falcon is associated with the Avengers in the comics, Anthony Mackie's really into bringing his character to the movieverse Avengers:
I call all of them at Marvel every Monday. I'm like, 'So have y'all decided if I'm in Avengers 2 yet? I'll get on the bus to Albuquerque tomorrow!' I wanted to be a superhero from the first day that I started in this business, and to have the opportunity to be a superhero is kind of remarkable. If I get the opportunity to be in The Avengers 2, 3, 7 and 18, there's no way I would complain or balk at any part of that…
In the same interview with Total Film, Mackie did confirm that he'll be in Captain America films past The Winter Soldier. [Coming Soon]
---
Jurassic World
There are photos of sets being built in Hawaii's Kualoa Ranch, which was also where the original movie was filmed in 1993. Go here for photos from further away. [On Location Vacations]