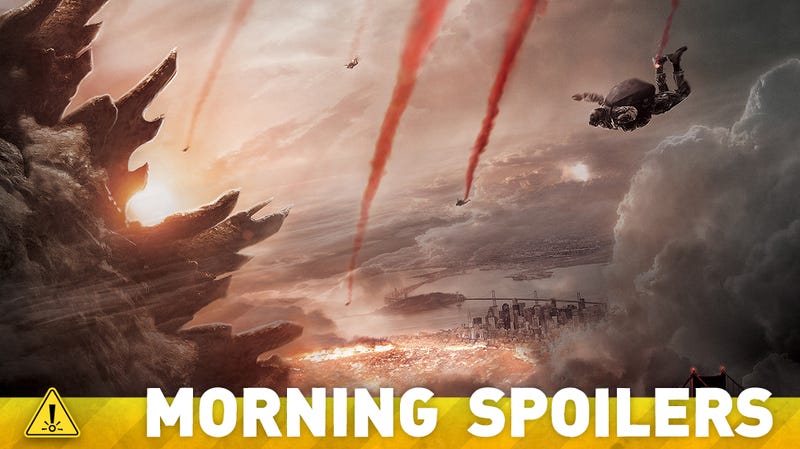 There's another new Star Wars casting rumor. Peter Jackson explains why he added elves to The Hobbit, and whether he'll direct an episode of Doctor Who. And Robert Kirkman says you will always know when it's a character's last moment on The Walking Dead. Plus, the first poster from Godzilla. Spoilers now!
Top image: Godzilla
---
Star Wars
The latest actor to join the ever-evolving list of possible cast members of Star Wars is Jack O'Connell. He was previously in seasons three and four of Skins and will be seen in next years 300: Rise of an Empire and Angelina Jolie's Unbroken. Bleeding Cool says they have two "very dependable voices" putting O'Connell in the running for a "key role," and that he's already met with J.J. Abrams. As usual, nothing's confirmed, and O'Connell's just the latest name. [Slashfilm]
---
Amazing Spider-Man Sequels
Even though Sony's announced plans to do Amazing Spider-Man 3 and 4, Andrew Garfield's only committed to do the third. And he's recently hinted that he may not be in the fourth:
I mean I'm under contract for another one after this… as far as a fourth one? That's not anything to do with me. But yeah, I think what we're doing here is we've established the world. And now we get to really play inside that world.
He also discussed what he liked about doing Amazing Spider-Man 2:
I think there was something missing in the first one because our focus wasn't on character as much we were trying to keep a number of plates spinning in the air – How can we reintroduce the character? How do we not upset this guy or this guy? That was a tough wasteland we had to move through. Now we could say, 'who is this guy?' How can we best serve Spider-Man?'
---
The Hobbit: The Desolation of Smaug
Wondering why Legolas is going to be in this film, when he's nowhere in the book? Here's Peter Jackson's answer:
People always ask about Evangeline's character Tauriel and why we felt the need to create her. But in The Hobbit novel, [the dwarves] are captured by the elves and they escape in the barrels. And it's a memorable part of the book but the Elf King is not even named. He doesn't have a name. And it was only later on that Tolkien decided it should be Thranduil and he also decided he should have a son when Lord of the Rings was written 18-19 years later. He created the character of the son of the king.

So you've got material there but you can't have a scene in a film that's a memorable scene with just one person as the Elf. We wanted three Elven characters. That's the thing too, to create characters and have conflict with each other and they have different agendas. Thranduil, Legolas and Tauriel are all on different flight paths which makes it much more interesting ability for Fran [Walsh] and I to tell the narrative through their eyes.
---
World War Z 2
There's no script, or even writer, yet, but the sequel has a director. It won't be Marc Forster, who directed the first movie, but Juan Antonio Bayona, who directed The Impossible and The Orphanage. [Slashfilm]
---
Dawn of the Planet of the Apes
The release date has been moved forward a week to July 11, 2014. This may be in anticipation of Universal moving Fast & Furious 7's date, following the death of Paul Walker. [Coming Soon]
---
Godzilla
Here's the new poster:
---
The Legend of Hercules
Here's the first TV spot for the Kellan Lutz-starring Hercules movie. (Not to be confused with the one with Dwayne Johnson.) [via Coming Soon]
---
Tin Man
NBC's pilot about a robot accused of murder and his public defender has cast its male lead: Patrick Heusinger, who played the bounty hunter Adam on Revolution. Heusinger plays a robot, who had been a valet to his owner/builder, and he is now accused of his murder. [Deadline]
---
Doctor Who
Remember when Peter Jackson said he wanted to direct an episode of Doctor Who? Well, he's now saying that the discussions about it are "actually kind of serious." He went on to say: