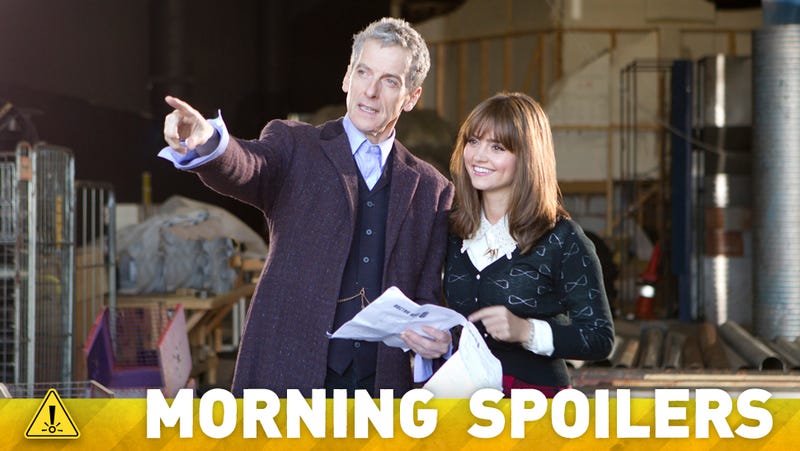 Does an official toy photo reveal the 12th Doctor's costume? Sacha Baron Cohen's could join the Alice in Wonderland sequel. Ron Howard is still moving ahead with The Dark Tower. Orphan Black's doing something in season two that's causing the cast to lose sleep. And the CW's Flash adds a major hero. Spoilers now!
Fantastic Four
Once Simon Kinberg finishes his pass on the script and turns in his draft by the end of the month, the Fantastic Four reboot's going to start auditioning actors. In contention for Reed Richards are Game of Thrones stars Kit Harington and Richard Madden, plus Miles Teller. Teller seemed pretty optimistic, telling one reporter "that should be coming up in the next few weeks" — but according to inside sources, that just means he's in the running, not the front-runner or anything. For Sue Storm, reports have Kate Mara and Saoirse Ronan as possibles.
The audition process will probably have all the favorites test with the attached-but-not-officially-announced Johnny Storm, Michael B. Jordan, to see who has the best chemistry as a group. [Variety]
---
Through the Looking Glass
The Alice in Wonderland sequel is in talks to add Sacha Baron Cohen to the cast as its villain. The villain's identity is being kept under wraps. Given the way the first movie played with the characters from the books, it could be something as obvious as the Red King or King of Hearts, or something completely unknown and new. [Variety]
---
Vice
The recently picked up movie has picked up a few stars, including Bruce Willis. Willis will play the owner of a resort filled with synthetic human staffers who have their memories wiped every night. The memory-wiping thing allows the patrons to do whatever they want to the staff. Also cast is Ambyr Childers as a staffer who suffers a glitch that gives her back her memories, causing her to vow revenge. [The Hollywood Reporter]
---
The Hunger Games: Mockingjay
Natalie Dormer took the time to explain to Entertainment Weekly why she shaved half of her head for the role of Cressida:
It's been hidden for three months. It happened back in October. I was, you know, waiting for the right moment... Francis Lawrence, the director of 'Mockingjay,' and I discussed it and I took the job on the premise that I would possibly shave my whole head. I'm actually really pleased that we went halfway because I think it's more the Capitol… and that's where Cressida comes from. She comes from the Capitol, so she's got a stylized thing going on and now she's turned rebel. I think it's right for the character.
---
Batman Vs. Superman
Take this for whatever it's worth to you, but Jennifer Garner's seen the costume her husband's going to be wearing as Batman. In her comments to Entertainment Tonight, she was effusive, if light on the actual specifics:
I've seen the suit. The suit is unbelievably cool. It's a total reinvention. It looks great.
See for yourself:
---
I, Frankenstein
Aaron Eckhardt explained what drew him to this utterly out there take on Frankenstein, saying:
I knew immediately that I wanted to do it, mostly because the script had elements in it that I liked. As an actor, you're looking for the human struggle. I liked the action element of it. I liked this world that Stuart [Beattie] took us into. But it was mostly that here's a guy, looking for his purpose in life. I thought that that was cool, and that anybody could relate to that. And the sticks — I thought the sticks were cool.

I met with Stuart and thought he was great. You meet some directors and you know right away that they can tell a story, which is the most important thing. Some are better at it than others. Stuart, he loves actors, he loves filmmaking, he's a very nice guy, and he's a hard worker. He put all of the elements together. This is his baby, 100 percent.
More at the link. [Comic Book Resources]
---
Transformers 4: Age of Extinction
Producer Lorenzo di Bonaventura says that this movie isn't a reboot, and it will acknowledge the three other movies:
It's definitely not a reboot. It's an interesting question about what you should call it. On a certain level it's a continuation of the previous stories, in the fact that it acknowledges what has transpired before it. It acknowledges in the last movie, the destruction of Chicago, it's actually something that carries through the sort of emotional repercussions of that, not unlike 9/11 has emotional repercussions in the real world. In a fantasy world there are repercussions to what occurred.

That plays into the movie, moving forwards with a totally different human cast, who doesn't know anything about the other humans, it's not a reboot, but a continuation, yet you're continuing with a new cast and group of characters. It was a big decision to do that.
---
Vampire Academy
If you've been anxiously awaiting this movie, good news: the release date's been pushed up from February 14, to February 7. That puts it only 2 1/2 weeks away.
---
Dark Tower
Recently, Ain't It Cool News spoke with Breaking Bad's Aaron Paul — and when the interviewer told Paul that he'd make a great Eddie Dean, Paul responded by saying that he's actually been in talks for the project, and it's still moving forward despite some setbacks:
Thank you. I've had a ton of meetings on that. I just had a general sit down with Ron Howard, who is a huge fan of the show (Breaking Bad, naturally), which is such a crazy thing to even think that Ron Howard even knows who I am. They're definitely planning on making it.
Paul also said that he's been told that they're thinking of doing films mixed with some sort of TV show:
I'm excited. Their goal is to do three films, but also have a television element to it, which will be very interesting. From what I hear, Eddie Dean is a pretty epic, iconic character.
---
The Flash
The Arrow spinoff has cast Jesse L. Martin as Detective West, the "honest, blue-collar cop" who acts as Barry Allen's surrogate father. This lends some credence to the reports that the spinoff will reimagine Iris West as the daughter to the detective who took Barry in. [Deadline via SpoilerTV]