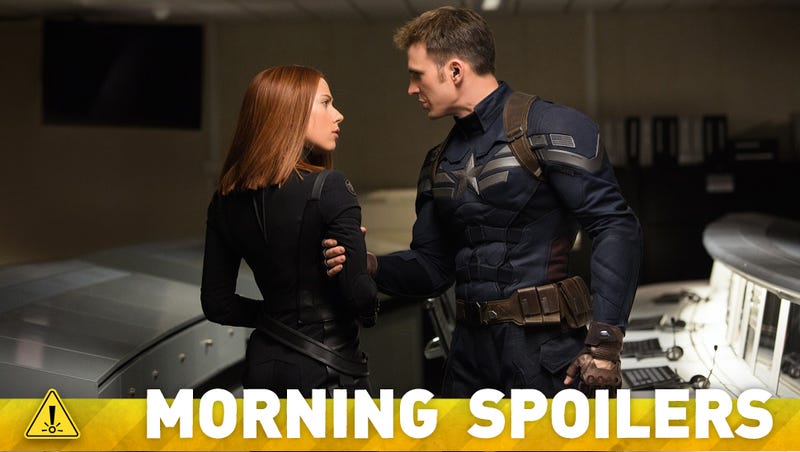 A Game of Thrones star says the show could become a movie. David Fincher is remaking the British series Utopia in the U.S. Find out why Cap's costume is changing in Captain America 2. A new promo may have answered a major Walking Dead question. And a familiar face is coming to Person of Interest. Spoilers now!
Avengers: Age of Ultron
Speaking with Total Film, Marvel's Kevin Feige described just what we'll learn about Black Widow in the movie and hinted that Marvel could be on the path to making a Black Widow solo film:
We learn more about her past and learn more about where she came from and how she became in that film. . . . The notion of exploring that even further in her own film would be great, and we have some development work with that.
Feige also said that there would be a different kind of feel going into the second Avengers movie:
We wanted to change the dynamic of the cinematic universe with this film. We wanted Cap and really the entire cinematic universe to be very different at the end of 'Winter Soldier' than it is at the beginning. Therefore, when we meet the Avengers at the top of 'Age of Ultron,' it's a very different landscape than we left them at the end of the first film. Partially that's because we love the rhythm that the comic books have developed. Each of the characters appear in their runs, occasionally they get together for a big event or crossover series, they part again, and then they come back together again.
We've heard before that Captain America: The Winter Soldier is going to have a pretty big impact on the movieverse's S.H.I.E.L.D., and it looks like the changes that it'll bring will not only impact the TV show, but also roll forward to the Avengers sequel. [First Showing]
The Gauteng Film Commission recently announced that the Avengers sequel would film in Johannesburg, South Africa, with the city appearing as itself in the first 10 minutes. That was taken to mean that South Africa wouldn't stand in for Marvel's fictional country of Wakanda. However, Drew McWeeny of HitFix responded to a framing of the story as the production not using South Africa as Wakanda with "that's not correct." Technically, the Gauteng announcement read that Johannesburg would be seen as itself, but they've also said that the production would film in other parts of the Gauteng province, so it could be that filming which will set up Wakanda.
There's also a report from Latino Review's El Mayimbe saying that Natalie Martinez (End of Watch) has gone in "for a small role." He asked his followers if they thought it was Is it for Ms. Marvel? Hawkeye's wife? Smaller role?" Which, honestly, it could be anyone at this point. [Comic Book Movie]
---
Marvel
The latest Marvel One Shot, "All Hail the King," has a lot of Easter eggs in it, according to its writer (and Iron Man 3 writer) Drew Pearce:
There's a lot of Trevor Easter egging in there. I think it's definitely worth looking up the young prisoner that asks Trevor to do an impression of the Mandarin. It's definitely worth people keeping an eye on as a character. What you can't quite see is that there's a tattoo by his eye that isn't a teardrop, as one might normally expect, but is actually a tiny chess pawn tattoo.
The kid with that tattoo is credited as Fletcher Heggs, known to comic readers as The Knight. The Knight is one of Obadiah Stane's "Chessmen" henchmen. There was an arc in the comics which had the Knight twice failing to assassinate Tony Stark before going to prison, which matches with him being there in the short. After he's killed for his failure, a new Knight shows up to battle War Machine.
Now, this is Marvel, so it could just be a little shout-out. Or it could be laying the groundwork for a reappearance by a bunch of villains who were loyal to Stane. Or, if we get a War Machine movie in order to replace Iron Man, maybe the short's laying the groundwork for a Knight vs. War Machine showdown, like the comics. [MTV]
---
Star Wars
With Episode VII beginning production soon in the UK, ILM is opening an office in London. The new facility is aiming for 200 employees. And while Star Wars is the impetus for the opening of the new office, the first project it will work on will be Avengers: Age of Ultron. According to The Hollywood Reporter, this is how the new office will work on Episode VII:
The plan is for the ILM facilities to handle all of the work for the film, not just in the U.K., but also in ILM's San Francisco headquarters, and Singapore and Vancouver locations, as well as at its strategic partner, Base FX in Beijing. The London facility will have a pipeline allowing it to share work with the other ILM offices.
---
Captain America: The Winter Soldier
The trailers and promo materials for the sequel have all shown Cap's new outfit, which is definitely a darker more armor-like version than we've seen before. Director Joe Russo explained the thinking behind it, telling SFX:
It was about a real world grounding approach to the character, in the spirit of Ed Brubaker's book, which is postmodern and deconstructionist and a grounded thriller. We wanted to put Cap in a space where he's a special forces operative for SHIELD who goes on missions around the world that are clandestine and sometimes require a certain level of anonymity or stealth. We wanted to use his Super Soldier outfit from the comic books as a way to represent, thematically, his place in the world of SHIELD and the difference between working for SHIELD and being Captain America. That's something that gets explored on a very concrete level in terms of what outfits are used in the film. We didn't feel like we were messing with the icon. People can say that they're fans of the books if they're only loyal to the '60s and '70s version of the character – well, then you're a fan of that version of the character, but if you've been reading the books till the current runs then this is a journey that the character goes on and it's a pretty explicit journey. We just felt like we were being faithful to the more recent issues of the books. The movie has a very thematic component in terms of the use of costumes. When you come to see the film I think you'll understand why we made the choice we made…
And if that's not enough about the costumes, here's Anthony Mackie explaining how the Falcon's will evolve with each appearance:
It's 10 times tougher performing with wings. I'm like, 'Wait, I'm the only dude that's on strings? Everybody else gets to walk around or drive cars and I gotta fly?' When we had our first conversation about the movie, my biggest statement to the Russos was, 'You better not make me look like an idiot.' That was my greatest fear. Even though I wanted to wear red spandex, I was hugely afraid of looking like a pigeon! As the Falcon aged [in the comics] and grew up, his uniform grew up.

The uniform we have now is the uniform of an adult… The Ultimate look gives him a sense of purpose and makes him look like a badass. The wings can look funny at times, so you have to do something to combat that – at no point in time do you want him to show up on film and have people laugh. That's what we've been able to find, between the tactical suit and the Ultimate suit. As the franchise goes on and you see more of me and Captain America, the suit will evolve into the Ultimate look, the hard-leather black look. The suit that he has in this movie is more of a military suit because it's the first time you see it.
---
X-Men: Days of Future Past
Here's a photo of Michael Fassbender as Magneto tweeted out by the official movie account. [via Slashfilm]
---
Amazing Spider-Man 2
Spider-Man will be the first superhero ambassador for Earth Hour. And to celebrate, the studio released a new announcement video, containing a bit of footage from the movie. [Super Hero Hype]
---
Sharknado 2
Joining the totally-necessary sequel's cast are Vivica A. Fox, Judd Hirsch (Taxi, Numb3rs), Judah Friedlander (30 Rock) and Andy Dick. Fox will play an old high school friend of Fin (Ian Ziering), Hirsch will be (seriously) an NYC cabbie, and Dick's playing a cop. It'll also have Mark McGrath as Fin's brother-in-law and Kelly Osborne as a flight attendant. [TV Line]
---
Utopia
David Fincher and Gone Girl author Gillian Flynn are pairing up for an HBO miniseries based on a recent UK series called Utopia. Here's the UK show's description:
Five online strangers end up being drawn together by the legendary manuscript of a cult graphic novel and they end up being pursued by a secret and deadly organization known only as The Network. The online comic book forum agree to meet after gaining possession of the original manuscript for the cult graphic novel 'The Utopia Experiments'.

Three of the forum members meet in the pub while another ends up being confronted and killed by two Network henchmen. The only witness to the murder is 11-year-old Grant and after he flees with the manuscript, the henchmen attempt to catch him.
The show already has a full series order, and Fincher will direct the pilot, written by Flynn. [Coming Soon]
---
Game of Thrones
While Kit Harington was doing press for his new movie Pompeii, he was asked if Game of Thrones could spawn a movie, the way fellow HBO shows Sex and the City and Entourage have. He seemed to think it was a distinct possibility: "I think it's an option on the table, maybe. It's very filmic in its style already, so it's possible." [Variety]
---
The Walking Dead
A (now taken down) international promo showed Tyreese with a baby in his arms in the woods. Now, Baby Judith didn't survive in the comics and Scott Gimple recently said that her fate wasn't shown just because "things we wouldn't show on television," which seemed to confirm her death. But this new promo seems to have given away a twist. Assuming that the baby is Judith — the quality on the video wasn't perfect. [Mstars]