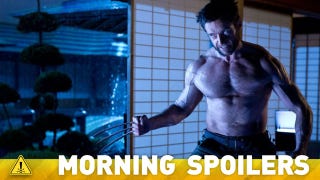 Henry Cavill hopes we see one character who was hinted at in Man of Steel. The Terminator reboot has a tentative front-runner for Sarah Connor. And Stephen Moyer opines on a Bill-Sookie ending to True Blood. Plus, exciting new pictures of the Doctor Who Christmas special. Spoilers now!
Wolverine
While James Mangold isn't officially signed up to make another Wolverine movie, he's still looking at possible sequel ideas, saying:
I would just say it is always going to be about his relationships to other characters. We are very much trying to work with existing text. There are other great Wolverine stories out there but suffice it to say there are great texts about his connections to others, villains, characters from the lore and from the comics that we can bring out and have another great and meaningful adventure.
He also explained why they haven't been able to get Wolverine in his classic comics costume:
Finding the rationale for a uniform when the character disdains self promotion, why he would put on some outfit that promotes himself as some kind of hero? It's like Dirty Harry didn't walk around with special outfit. There's a difficult line to walk. He's not a showoff, he's the last one to put on a team jersey. The flesh and blood character is very loyal to that iconoclastic rebel who doesn't seem to be the first to don spandex. It isn't something I've talked about much. Some fans may be frustrated, but we're trying to be true to his character. Who knows whether that will change, I cannot verify and will not deny.
---
Man of Steel
The first Man of Steel was filled with DC Universe easter eggs, including a nod to Wayne Enterprises. That's not star Henry Cavill's favorite, though — he has another character he'd like to see on the big screen:
On the extras on the Blu-ray, we're going to get the opportunity to see Zack's references to other aspects of the DC Universe. There's one obvious one which is now particularly obvious because of our next installment, which is involving Batman as well. We see Bruce Wayne Enterprises on the satellite in space. We also see some references to LexCorp. I actually have no further knowledge of this next story, but there's a good chance Lex is going to be introduced soon or at some stage. What really intrigued me was Dr. Emil Hamilton's connection to S.T.A.R. Labs. Cyborg I think would make a wonderful character and an incredible bridge between both superhumans and humanity in a different way to Batman. So I don't know where he's going to come in or if he's going to come in, but that's one I'm particularly excited about. Other references I'm not too sure on, but we'll see where those lead. Those with keen eyes will see them.
Watch the video below. [Coming Soon]
---
Terminator
Despite earlier rumors that Tatiana Maslany was in the running to play Sarah Connor, the latest from Deadline says that the list really is just Emilia Clarke and Brie Larson, with Emilia Clarke having a slight edge. [via Coming Soon]