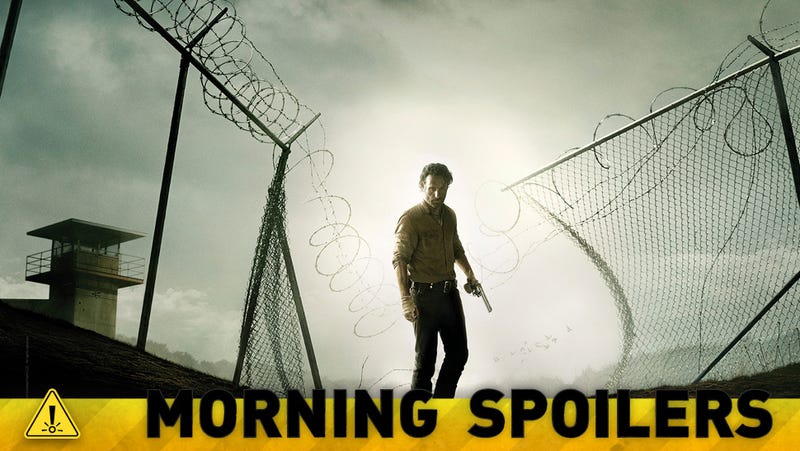 Almost Human is thinking about robo-rights. There are new pictures of the Governor from Sunday's Walking Dead. Monroe's parents have been cast in Grimm. And we finally know who Stevie Nicks will be playing on American Horror Story. Spoilers ahead!
Jurassic World
It looks like producers are trying get Chris Pratt to star in the latest Jurassic Park. More specifically, he's being sought after to take the leading role originally offered to Josh Brolin. In addition to Pratt, Irrfan Kahn is reportedly in contention for a supporting part. [Slashfilm]
---
Transformers 4: Age of Extinction
At the premiere of Lone Survivor, Mark Wahlberg said a little about the Transformers film to Access Hollywood:
It's a completely different stand-alone movie. It takes place after the third one, after the battle of Chicago. It's definitely its own story.

I think it's very different and fresh and people are going to really enjoy it. I had a blast making it. And you're going to see things in this particular movie that you haven't seen in the other movies.
---
The Walking Dead
Here are two new photos of the Governor from this Sunday's episode. It appears he's been camping in the woods between the last season and the final shot of the last episode. One more picture at the link. [Entertainment Weekly]
---
Almost Human
Joel Wyman explained how Lili Taylor got cast to play Maldonado, who was originally written as a male character:
Yes. Originally we conceived her as a man, the concept of Maldonado. Somebody had brought up, I'm not sure, I think it was April Webster, our casting director, that said ,"What about Lili Taylor?" Then once we started talking about, we are huge fans of hers, that concept we realized that the character of Maldonado would actually be far superior if it was a woman.

The character started to take on all these incredible aspects that really weren't there in a male version of her. We just embraced the idea and we're so fortunate to get her because we just all really adore her. That's how that came about. It wasn't originally designed as a female, but we went down that road when it was presented and we loved it.
He also described which ethical questions a world with robots will bring:
With Civil Rights being such a big issue right now, are there going to be robot rights, maybe robot marriage explored on the show?

That's a really good question. J.J. had set us up with some very, very brilliant people from MIT, and one of the brilliant people was a woman who studies robot ethics, which is pretty amazing because when you talk to her, you get the idea that, wait a second, this is definitely coming. Some of the amazing things with these robots that are now what we see in the future are definitely robots, not human. They're not becoming human, but they're definitely becoming beings.

That's a moment where you're thinking, they're real. They are thinking beings. What are their rights? Where are those lines drawn? A lot of those things are examined in some of our later stories. Those concepts of what exactly is a robot? What is an android? What is a being? If it's able to think, if it's able to be, then what? We're definitely interested in those types of things.
More at the link. [Chicago Pride]
Karl Urban did a lot of work to prepare to play a cop:
We had a bunch of tactical training. I went on a bunch of ride-alongs with some cops just to get a sort of feel of what the reality is of their job. Then there's also a physical component. Our show is a fun, action-packed hour of television. Michael and I both need to be in good shape to do our job.
Micheal Ealy, on the other hand, was more concerned with understanding the rules and shape of the near-future world that he was being asked to inhabit:
So I think right now the hardest part is actually trying to understand and develop somewhat of a bible for the world that we live in. You know what I mean. So it's like, can you talk on the phone or do you talk through your com? So it's like we're trying to find out what are the rules of the world that we set up. I think that's probably the hardest part for me right now.
More at the link. [TV Equals]
Go here for a complete set of photos from episode two, "Skin." [SpoilerTV]