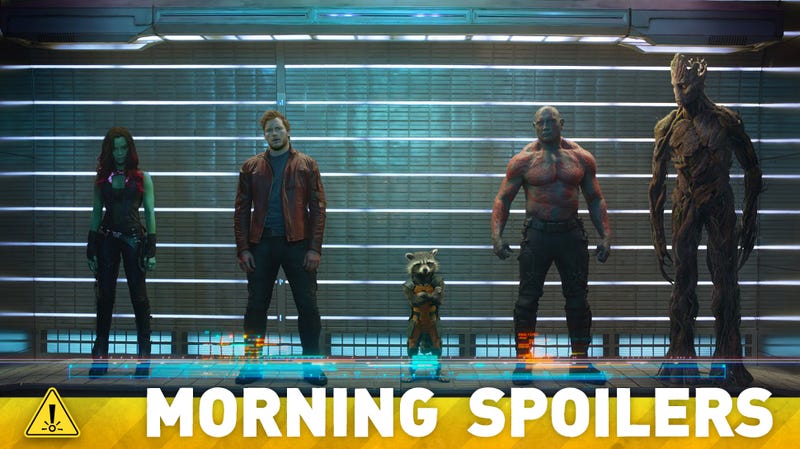 Are prop-makers in London being locked in for Indiana Jones 5? Find out who played Rocket Raccoon on the Guardians of the Galaxy set. Emma Watson describes the hazardous conditions on the Noah set. And Hugh Jackman talks fighting X-Men: Days of Future Past's Sentinels. Plus casting news from Supernatural: Tribes, Agents of SHIELD, Vampire Diaries and more. Spoilers now!
Guardians of the Galaxy
James Gunn explained that, along with certain characters, Marvel doesn't exactly own the movie rights to certain aliens either:
Marvel only partially owns Skrulls, and also for the record, we don't own the Badoon either. So people were asking why we have the Sakaarans in the film, we don't own the Badoon.
It's probably Fox that owns the Badoon — who are a major threat in the Guardians comics — given that Fox has the Fantastic Four and Silver Surfer. And it sounds, reading between the lines, as though the Skrulls are in a gray area (which could be why we saw the Chitauri in Avengers.) Gunn also described who played Rocket Raccoon on the set, since they hadn't cast Bradley Cooper until after they'd finished filming:
My brother Sean Gunn wore a little green suit and he waddled around and he acted out Rocket. I think all of the guys will attest to the fact, and they have in all their interviews, that he was a great part of the team, and it really was Zoe, Dave, Chris, and Sean who sort of like created the energy that people will see in the movie between these four characters, who are usually at odds and sometimes find common ground. Sean was a big part of that energy and creating that, not only was a he doing a great job performing himself, but also gave the other actors something to work off of so they're not working with a tennis ball.
Listen to the interview below. [Coming Soon]
---
Star Wars/Indiana Jones 5
Pinewood Studios is reportedly in the process of building a full scale Millenium Falcon, as well as a number of lightsaber hilts. This fits in both with the idea that Episode VII will show a lot of the touchstones from the first trilogy, as well as the reported emphasis on practical props.
Den of Geek is also reporting that the modelmakers are being offered seven-year contracts, covering all three movies of the trilogy and some of the standalone ones. Also reportedly on the table for this contract is Indiana Jones 5, which is no confirmation that it's happening — just that it might. [Den of Geek via Slashfilm]
And then there's the deeply unlikely rumor that they're looking into recasting Princess Leia. Jedi News has a tip that there was a casting call for that part in London, but Slashfilm very logically pointed out that other auditions had the actors reading scenes from the older movies. Plus, they could very likely be using the name as a placeholder, while looking for a similar type of character (possibly a daughter?). [Jedi News, Slashfilm]
---
Noah
Emma Watson said that the film's got an environmental message, which sounds like it's "fear the flood we'll be seeing if we don't act," that impacted filming a bit:
Because of the storm, Douglas [Booth] and I ended up shooting most of our scenes between 4am and 7am - and at that time I never function well. Because the film has a pro-environment message, Darren didn't want anyone drinking from plastic water bottles on set either. So that made things slightly harder.

Everything we used had to be recycled or recyclable. Having no water bottles on set at five in the morning, when you're exhausted and delirious, wasn't ideal. I was so tired one morning I picked up a mug from my trailer and drank some stagnant water that had been there for the duration – so three months. I was so ill.
Watson also told Wonderland magazine that the heat of filming in New York in summer also affected actor Ray Winstone:
We started filming in the summer in New York. It was so hot that Ray Winstone at one point, who wore a beard and heavy make-up, nearly fell down a flight of stairs. His make-up was literally melting off his face.
---
X-Men: Days of Future Past
Hugh Jackman revealed that he'd be fighting both the past!Sentinels and the future! ones in the film, saying:
Yes, you do see battling and I'll tell you, you see battling in the future and in the past. And not just me battling them, but all the characters. It's exciting after doing two Wolverine movies in a row to see how the X-Men work together, so I'm trying to give you a little something without giving you much, but they need to work together in order to bring down the Sentinels.

Can you talk a little bit about the Sentinels in the past and the future and how different they are?

I was just told I can't tell you about the future! You guys have seen the past, right? You've seen the past Sentinels.

We saw Bryan's pictures… And there have been pictures as part of a viral marketing campaign.

All I can tell you… is that in the future, the Sentinels are formidable. They're formidable in the past, but in the future it is a very dire situation for the X-Men. (Laughter) [Unit Publicist] Joe's happy, no one else is! Sorry!
He also talked about how Wolverine will be different in this movie, versus how we've seen him before:
Well, it very much follows on from The Wolverine. You get the feeling that he's come to terms with who he is – I'm a warrior, I'm Wolverine and that's who I am, for better or worse, it's not all going to be pretty, but here we go. And then soon after, as you saw in the teaser, he gets approached. Now, actually, it's all hands on deck, it doesn't matter which side you're on in terms of mutant politics, it's about survival. So he's on board, but he's very much in the center of it in terms of the team, so to speak. And then he's sent back to try and fix things and, as he says, I'm the last person in the world who should be sent back on this mission. If you want someone to go back to take someone's head off, fantastic, but he's really got to go back and almost act in parts as inspiration, as mentor, as guide, because he can't do it all on his own, which is always his preferred method, but he can't here because of the nature of the story. So he has to become, not necessarily a leader, because I'd still call Xavier the leader here, but in a way he has to become a facilitator for everyone to come together. Which is not his normal modus operandi and it's certainly not easy for him.
---
The Hunger Games: Mockingjay
A casting call went out from CLCasting for "thin framed men and women, ages 18+ for 'Untitled Trilogy,'" which is the title they use for The Hunger Games movies. They required the men to be willing to get a haircut and would pay extra for those that agreed to do a "wet" scene.
The dates were this week and last, from February 14-18. Based on the description and the scenes that were being filmed earlier this month, I'm betting these "thin" people are playing the food-rationed denizens of District 13. The haircut requirement also makes sense, since it would give all the men a uniform look. [Hollywood Hills]