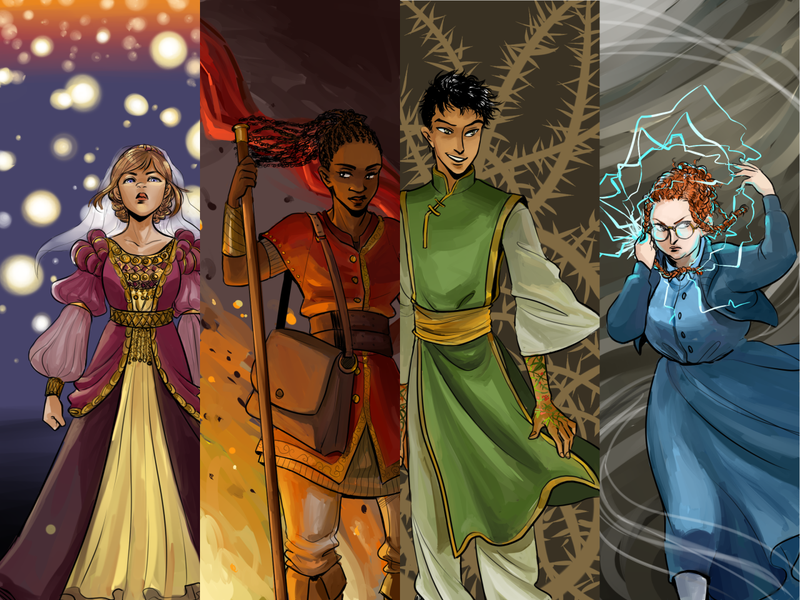 On TV and in film, we're seeing a lot of properties get developed that we never thought would have a chance. In some cases, we're seeing single properties stretched to into whole universes. Why do this when there are two worlds, by the same author, which are perfectly suited to this kind of adaptation?
Top image: Circle of Magic Bookmarks by Minuiko
Every year, I go back and re-read some books that I loved as a kid. The last few months, I decided to re-read all of the books by Tamora Pierce. And now all I can think about is how much I want to see these stories up on the big screen.
Pierce has two universes ripe for the adapting: Tortall and the Circle novels. Tortall has five book series that take place in the same world and there are two series and a couple of standalone stories in the Circle universe. These are epic worlds that Hollywood should be jumping all over itself to adapt.
Pierce has answered the question of why it hasn't been done and why she's okay with that, saying:
My film agent tells me that the largest barrier to my getting a film deal is one of the things my fans like best: the fact that, for 14 of my Tortall books, and 10 of my Circle books, there is a good chance the reader will encounter friends from the earlier books. Readers of the Kel series will encounter characters from the Alanna and Daine books; readers of THE WILL OF THE EMPRESS will encounter characters from The Circle of Magic.

The feeling among moviemakers is that if Company A makes a movie based upon the Alanna books, and Company B makes a movie based on the Kel books, Company B will be profiting from all the work Company A did, for free! (Gasp! Say it's not so!) The bottom line is that unless I get J.K. Rowling-hot, so that a film company will buy an entire universe, my chances of getting a film deal are Not Good.

... When I'm not writhing with envy, I actually don't much mind. Unless I get as big as You-Know-Who, the likelihood that I will be given any degree of control or any advisory position on a movie is zilch.

... If I did make a movie deal (I can be had—movie money is VERY good), I would warn my fans not to expect to see my books on the screen. As I said above, Hollywood is notorious for changing the book in their translations. Books take place in the reader's head. No one will capture what you imagine, which is what I love about books.
She's of course, correct in many ways. On the other hand, that doesn't mean that her books shouldn't be adapted, because they're wonderful and would look so good on screen. Plus, the thing about everything being connected, which was a liability when she wrote in 2008 is now exactly the kind of thing studios are in love with right now.
Image Credit: "It's not that hard to guess who my favorite author is..." by Cali4beach/flickr/CC By 2.0
A Very Brief Description of Tortall and the Circle Books
The Tortall Universe starts with The Song of the Lioness, which follows the journey of Alanna of Trebond, who disguises herself as a boy in order to train as a knight. The Immortals has as its lead a teenage girl with magic that allows her to talk to animals and the leads of The Song of the Lioness have aged into leaders and legends themselves. Protector of the Small stars Keladry of Mindelan, who openly trains as a female knight, following Alanna's example. And Tricksters has Alanna's daughter on adventures of her own, out of the shadow of her mother. Finally, The Provost's Dog trilogy is an entry in the ever-popular prequel genre, with the ancestor of Alanna's husband taking center stage as a city guard trainee. Every single tale involves saving the realm from certain destruction.
Less robust, but equally compelling, are the Circle books. In this world, four "orphans" of various walks of life a trained in their very specific forms of magic. In that process, they deal with threats of all kinds and forge their own family, eventually taking apprentices of their very own.
Generic Reasons
Let's start with the venal reasons why these books are perfect ripe for the picking. First, Pierce's books hit right in that "female-lead-young-adult" zone that the film industry has been in love with for the last couple of years. I get that those have been more dystopic science fiction than fantasy, but the same principle should still apply. Second, they (mostly the Tortall books) fill the void of classic sword and sorcery fantasy movies that the final Hobbit movie will leave in its wake. Third, did I mention how many books there are? There are a lot. No need to stretch a single book into three movies here. And, while the universes stay the same, the main characters split off from one another or age into cameo-roles. That should be like printing money in Hollywood.