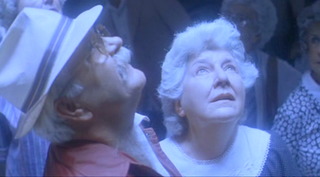 Supercentenarians are rare people who have reached the age of 110 and remain fit. Amazingly, many of them never get sick, despite having some bad health habits in some cases. Scientists say it all comes down to genetics — which could lead to a gene therapy that promotes longevity. Here's how super-c's will help us extend human life.
Centenarians are rare as it is, but supercentenarians are far rarer.
To qualify as a supercentenarian, a person has to reach the age of 110. But because so few men reach this advanced age, their cut off is typically taken to be 107. Some 85% of centenarians are women and 15% are men. Among supercentenarians, however, the female prevalence may be as high as 90%.
A Rare Breed
In the U.S. and other industrialized nations, centenarians occur at a rate of about one in every 6,000 people. Interestingly, this rate is increasing; as early as 1994 the prevalence rate was one per 10,000, so centenarians are one of the fast growing segments of the population. There are currently around 54,000 centenarians living in the United States.
But out of these, only about a dozen will make it to 110, or one in every 4,500 centenarians. Worldwide, there are only about 65 individuals over the age of 110.
The first valid cases of supercentenarians appeared in the 1960s and their numbers have steadily increased since the mid 1980s. And like centenarians, their numbers are also increasing. The current prevalence of known supercentenarians in low-mortality countries is about 10 times higher than it was in the 1970s.
Vibrant and Healthy
"Supercentenarians are truly special," says James Clement. "Only people who have special, protective, genes are capable of living this long." Clement is the CEO of Androcyte, a company dedicated to the study of super-c's.
Until recently, the only studies on longevity involved incredibly short-lived organisms, like nematode worms and mice. Human studies, on the other hand, have largely been limited to cells grown in petri dishes. Looking to overcome this limitation, Clement and colleagues have launched the Supercentenarian Research Study, an Androcyte-funded initiative that's working to identify the genetic variations that protect supercentenarians from disease and allow them to live nearly perfectly healthy lives until just shortly before their deaths.