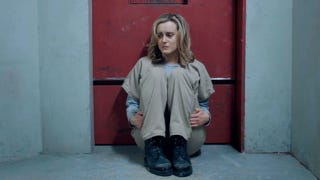 There may be as many as 80,000 American prisoners currently locked-up in a SHU, or segregated housing unit. Solitary confinement in a SHU can cause irreversible psychological effects in as little as 15 days. Here's what social isolation does to your brain, and why it should be considered torture.
There's no universal definition for solitary confinement, but the United Nations describes it as any regime where an inmate is held in isolation from others, except guards, for at least 22 hours a day. Some jurisdictions allow prisoners out of their cells for one hour of solitary exercise each day. But meaningful contact with others is typically reduced to a bare minimum. Prisoners are also intentionally deprived of stimulus; available stimuli and the fleetingly rare social contacts are rarely chosen by the prisoners, and are are typically monotonous and inconsiderate of their needs.
As for the jail cell itself, it typically measures 6' x 10'. Nearly all scenarios for human contact, such as a guard, or medical and family visits, are done through a metal mesh, behind glass partitions, or in hand- and leg-cuffs.
A cell inside Goulburn Supermax prison in Australia. (Duderocket)
Writing in Wired, Brandon Keim describes the conditions in the cells:
What's emerged from the reports and testimonies reads like a mix of medieval cruelty and sci-fi dystopia. For 23 hours or more per day, in what's euphemistically called "administrative segregation" or "special housing," prisoners are kept in bathroom-sized cells, under fluorescent lights that never shut off. Video surveillance is constant. Social contact is restricted to rare glimpses of other prisoners, encounters with guards, and brief video conferences with friends or family.

For stimulation, prisoners might have a few books; often they don't have television, or even a radio. In 2011, another hunger strike among California's prisoners secured such amenities as wool hats in cold weather and wall calendars. The enforced solitude can last for years, even decades.

These horrors are best understood by listening to people who've endured them. As one Florida teenager described in a report on solitary confinement in juvenile prisoners, "The only thing left to do is go crazy."
Prisoners in low and medium security jails are often thrown in the SHU for "just" a few days. But in maximum security prisons, individuals in solitary are held on average for five years, and there are thousands of cases of prisoners who have been held in solitary confinement for decades. Some countries, including the United States, employ the use of Super Maximum Security Prisons, or "Supermax Prisons," in which solitary confinement is framed as a normal, rather than exceptional, practice for inmates.
Pelican Bay State Prison in California. The X-shaped structure is the supermax security housing unit. Credit: CDCR.
Exact statistics are not known, but a 2011 study suggested that 20,000 to 25,000 prisoners in the United States are held in this way. Keim claims that that California holds some 4,500 inmates in solitary confinement, and that there are as many as 80,000 prisoners held in solitary across the United States — more than any other democratic nation.
Lasting Effects
Human beings are social creatures. Without the benefit of another person to "bounce off of," the mind decays; without anything to do, the brain atrophies; and without the ability to see off in the distance, vision fades. Isolation and loss of control breeds anger, anxiety, and hopelessness.