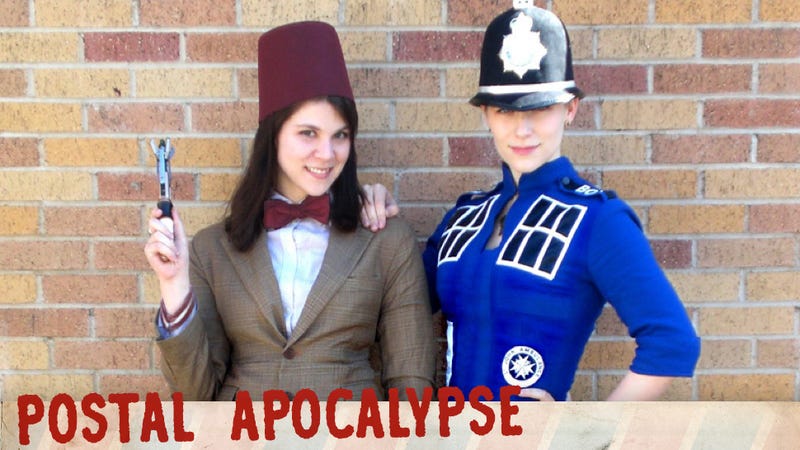 Look, before we get started, let me assure you all that I know the character is called The Doctor, and not Doctor Who. But you can't just have an article headline, even on io9, that only mentions the Doctor, because many people won't realize you're referring to Doctor Who. The same is true in my time, but inevitably some Who-ligan will correct me. The show hasn't aired in 30 years, but these people feel it is super-fucking-important to make sure you know he's only called "The Doctor." It's like, we live in the post-apocalypse, people. Why don't we try to invent running water again before we stress about Doctor Who nomenclature.
By the way, this awesome cosplay in the pic above is by janey-jane. Check out more of her awesomeness over at her DeviantArt page.
---
Doctor's Orders
Fake Name:

Apocalyptic Postman,

I'm writing to you from late November 2013, at a time when the Doctor Who 50th anniversary celebration has just passed. Though I should be satisfied with the excellent productions cranked out in association with the program, particularly the centerpiece "Day of the Doctor," which only a curmudgeon could have found serious fault with.

Alas, despite the show's standing and worldwide popularity, I am filled with unease unto dread, plagued with the nagging vision of Doctor Who's impending apocalypse with every new regeneration since David Tennant's. At the heart of this vision is nearly-overwhelming fear: namely, the fear that someday the character of the Doctor will be played by a woman.

Now hear me out; this is no hyper-traditional, vaguely sexist off-the-cuff remark like the recent one by Peter Davison based on that's-the-way-it-always-has-been reasoning, I promise.

Here's my thought: Regardless of whether the producers of the show at that time have found *the* perfect choice for the first-ever female Doctor, regardless of her acceptance by fandom, regardless of how seamlessly this transition naturally flows from the plot line, the truth is the majority of mainstream viewership will simply see the move to a female Doctor as complete and utter jumping the shark. This would not be due to stupidity or some general lack of imagination, I believe, but rather because it would *look exactly like* complete and utter jumping of the shark.

In my vision, Helen Mirren or Olivia Colman or Billie Piper (gods help us) is revealed as the choice to play the Nth Doctor. Millions turn off (and turn off to) the program immediately upon the announcement. By the end of season one, episode one of the new Doctor's reign, lines otherwise thought merely pithy and/or throwaway will be found to be little more than cheap shots and/or evidence of the scriptwriter's lack of knowledge of women, thereby alienating another large portion of viewership. By the time this generation's Sylvester McCoy is called in a futile attempt to save a program universally judged as "camp" at best, the writing's on the wall. Soon, the program is exterminated more fully than any Dalek could have managed.

So tell me, please, Mr. Postman, in hopes that insomnia will not rule my nights when Peter Capaldi's contract is not reupped, tell us from your future vantage point: Will the Doctor someday be cast as a woman? And how much longer do we have after that?
Okay, first of all, I'm not using your real name as I suspect a few (thousand) people may (virulently) disagree with you. No need to let those people have your real name and Google-stalk you to tell you how wrong you are. Second, what?
I think your primary argument — which you have worded impressively poorly (which, hey, I have done on many an occasion, so my sympathies) — is that Doctor Who shouldn't have a female Doctor because 1) people won't like it, 2) the writers will use it as a platform for cheap jokes ("Now that's I'm a woman, maybe I should be called the Nurse!") and 3) the show will turn into camp.
Let's break this down.
1) People won't like it. Hey, I'm a pessimist, but even I think most people could handle a female Doctor. Sure, there will be fuddy-duddys like Peter Davison who feel otherwise, but I guarantee you he thinks every change to Doctor Who is a grievous error. Besides, this argument is based on your latter arguments — people are going to need reasons to dislike a female Doctor beyond just her having boobs, and I think your latter arguments are also incorrect.
2) The writers will make cheap jokes about it. This is plausible, but self-defeating. Lots of shows can't write decent female characters, but does that mean we should never feature shows with female characters? Obviously not. Likewise, we can't not have a female Doctor just because it might be shitty. And besides, I don't know that the current Doctor Who guys have given us any reason to believe they'll be any worse at writing female characters than anyone else. Amy Pond, River Song and Clara have all been pretty good. Sure, the show has other writing problems, but I've never considered the female characters to be one of them.
3) The show will turn into camp. Excuse me, have you seen Doctor Who before? The show with farting aliens, serial fez wearing, and "Fear Her"? Are you really telling me that a female Doctor is somehow worse for the series than the Slitheen? No. Just… no.
Coming from the future as I do, I can tell you that the Doctor swapping genders is something that definitely happens before the apocalypse, so you'd best make your peace with it. The female Doctor didn't add or subtract any problems from the show (other than, you know, the problem that the Doctor had always previously been played by white dudes). Although I will admit that someone did make a "The Doctor? More like The Nurse!" joke, but the Doctor immediately decked them, so it was all right.
P.S. — I find it exceedingly odd that you liked the 50th anniversary special but are vastly disturbed at the idea of a female Doctor. Perhaps because a female Doctor only has potential problems, while the 50th anniversary special had actual problems. Don't Doctor Who fans have enough to worry about right now without making up additional issues?
---
Sense of Wonder
Clay K.:

wonder woman needs a female director with no bs. there is only one person for this job:
kathryne bigelow.
thoughts?
I wouldn't necessarily say she's the only person for the job, but I don't know of anyone better suited. I'd say it's a moral necessity to have a woman direct a Wonder Woman film, lest we get Man of Steel But With Boobs, but I would doubt Warner Bros. feels the same, because having an actual woman direct Wonder Woman is a good idea and Warner Bros. doesn't seem to particularly care for those.
By the way, Charlie Jane is exactly right when detailing the potential horrors of Zack Snyder's Wonder Woman (that the dude who made Sucker Punch is the dude who is bringing WW to the big screen make me mildly nauseous). My only hope is that WB keeps Zack Snyder on the main DC movie-verse franchise, and hires someone else to direct a solo Wonder Woman movie. Although it will almost certainly be McG. "Hey, he directed the Charlie's Angels movies, he gets women!" a WB executive will shout triumphantly, his nose frosted with cocaine.