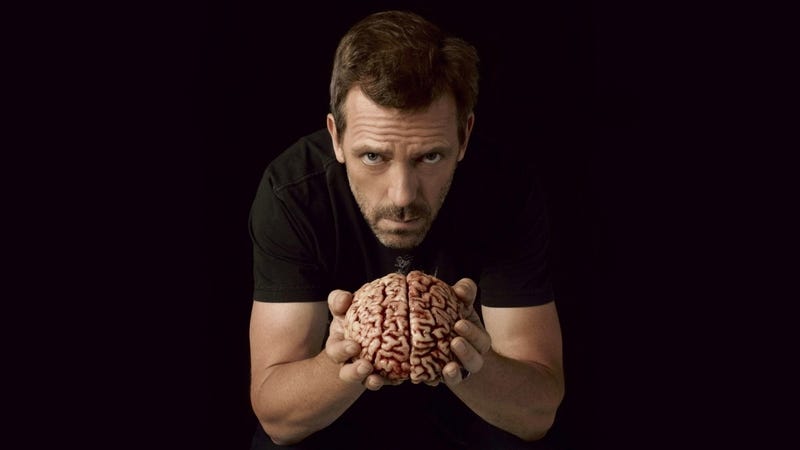 He used to be so cool and unpredictable. He would breeze into a complicated situation and make it simple through the razor-sharp power of his intellect. But lately, he's gotten dull, performing the same party trick over and over. The "smartest man in the room" is overexposed lately, and he needs a vacation.
The "smartest man in the room" is a kind of wish-fulfillment for reasonably smart people, because he's not just clever but incredibly glib. As popularized by people like Doctor Who/Sherlock writer Steven Moffat and the creators of American shows like House and Scorpion, the "smartest guy in the room" thinks quicker than everybody else but also talks rings around them, too. He's kind of an unholy blend of super-genius and con artist.
Thanks to the popularity of Sherlock, House and a slew of other "poorly socialized, supergenius nerd" shows, the "smartest man in the room" has become part of the wallpaper. His contempt for less intelligent people, mixed with adorable social awkwardness, and his magic ability to have the right answer at every turn, have become rote.
I was thinking about this because Doctor Who is returning in a few days. And even though Peter Capaldi has breathed new life into a show that was sputtering, I'm still pretty tired of the Doctor being a dick. The Time Lord's dickishness goes back to the 1960s, and Tom Baker's Doctor could be a megadick sometimes, but with the new series it's gone from being an occasional leitmotif to the show's main theme. (And there's a reason why everybody loves Patrick Troughton, whose Doctor often was the opposite of this trope — the Second Doctor pretended to be an idiot and slyly ran rings around people.)