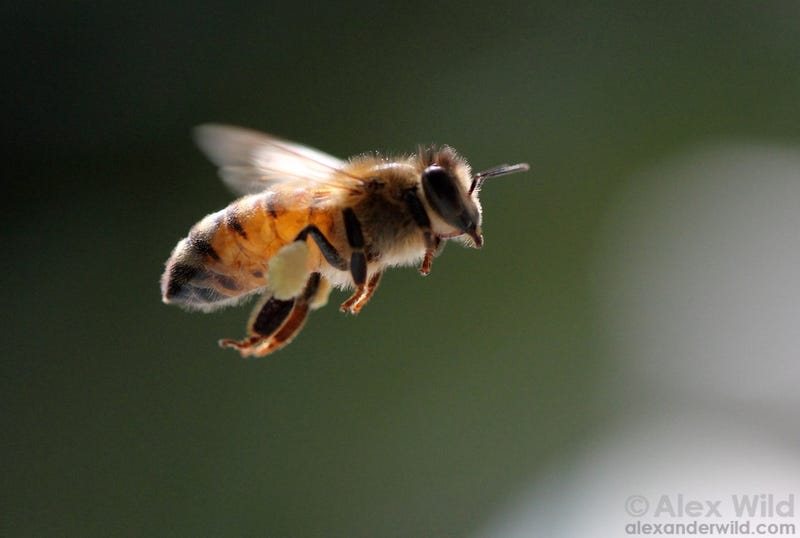 Darwin's idea of natural selection is simple. Good mutations are passed on, because the animals who have them will survive to reproduce. But how do you pass on those good mutations in honeybee colonies, where most bees are sterile workers who never have babies? A group of researchers decided to find out.
Photo of a perfect worker bee, with nectar in her belly and pollen on her legs, by Alex Wild
York University biologist Amro Zayed worked with a team of Canadian and Saudi Arabian researchers to unravel a genetic mystery that has long intrigued evolutionary biologists. Worker bees are the most important part of any bee colony, gathering food, building the hive, taking care of babies, and maintaining the temperature inside the hive at what Zayed calls a "balmy 33 degrees Celsius." If a worker has a mutation that makes it better at finding food in a new region, evolutionary reason would predict that mutation ought to be passed along to the next generation of workers. But how can it be, if only the queen bee is having babies?
In the 1960s, W.D. Hamilton first proposed a theoretical model that could explain how each generation of sterile bees contributed to the fitness of their species. The theory was called "kin selection," and it suggests that non-reproducing animals still benefit when another member of their group is having babies. As the term "kin selection" suggests, a sterile bee is still helping natural selection along, even if it's only by making it easier for her queen to lay eggs. After all, the queen is either mother or sister to every bee in her colony.
Bee eggs and larvae in the hive. Photo by Alex Wild.
For decades, kin selection was just a theory. Recently, however, we've accumulated enough genetic information about honeybees that we're able to analyze how they're evolving at a DNA level. And a few years ago, Zayed and his colleagues wondered whether they could use genetic evidence to back up Hamilton's fifty-year-old idea. First, they gathered 40 honeybee genomes from subspecies regions all over Africa, Asia, the Middle East and the Americas. "One researcher even risked great danger to get a honeybee in Syria," Zayed said.
After an intensive analysis, the team discovered that there are certain regions of the honeybee genome that are undergoing rapid positive selection. That means they found several relatively new mutations that have spread quickly throughout honeybee subspecies because they are so useful. And nearly all of those mutations were associated with honeybee workers' ability to adapt their behavior to new environments and manage the worker division of labor. Essentially, all the most rapidly-changing parts of the honeybee genomes were selecting for traits that gave advantages to those sterile workers.