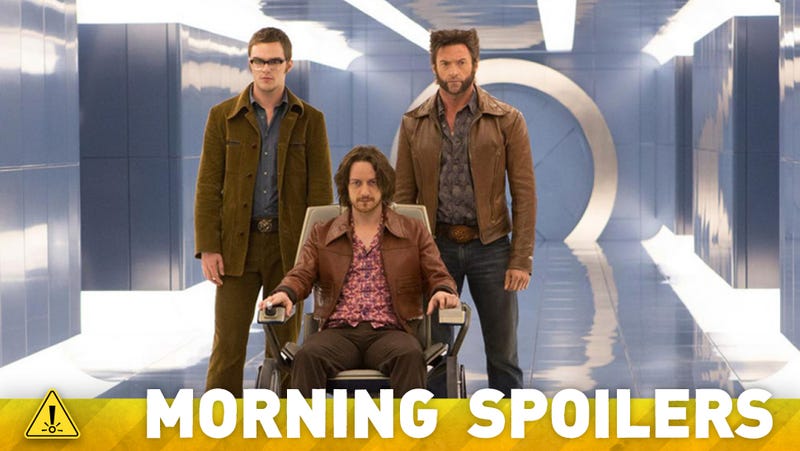 Star Wars: Episode VII could be released a bit later than anticipated. Vin Diesel and director David Twohy reveal what's ahead for Riddick. Lily Collins explains her upcoming fantasy movie Mortal Instruments. Plus an update on the future of Fox's Marvel movies, including Fantastic Four and X-Force. Spoilers now!
Top image from X-Men: Days of Future Past.
Star Wars: Episode VII
There's a rumor going around, one supposedly based on a whole bunch of inside sources, that Disney is considering releasing the new Star Wars move in December of 2015 as opposed to May, the release month for all previous Star Wars movies. There's been quite a bit of discussion elsewhere about what all this might mean, but really, it's just a release date, and lots of big blockbuster movies set these dates before being pushed back – including, just to name two examples completely at random, J.J. Abrams's two previous Star Trek movies. So, honestly, this all could just be a pretext for eventually pushing this thing back to May 2016, for all we know. [/Film]
---
Guardians of the Galaxy
Veteran character actor Gregg Henry, whose recent roles include characters on Scandal and The Killing, has tweeted that he is heading to London to appear in the Marvel space opera in an undisclosed role. [@GreggHenry88]
---
X-Men: Days of Future Past
Here's the first official image.
---
Fantastic Four Reboot
Mark Millar, the creative consultant for 20th Century Fox's Marvel superhero movies, discusses the upcoming Fantastic Four reboot from Chronicle director Josh Trank. He suggests that this new Fantastic Four series will exist in the same universe as that of the X-Men, although he has since tweeted that his answer isn't meant to imply a planned crossover. Here are his answers, starting with some thoughts on the original Fantastic Four movies: