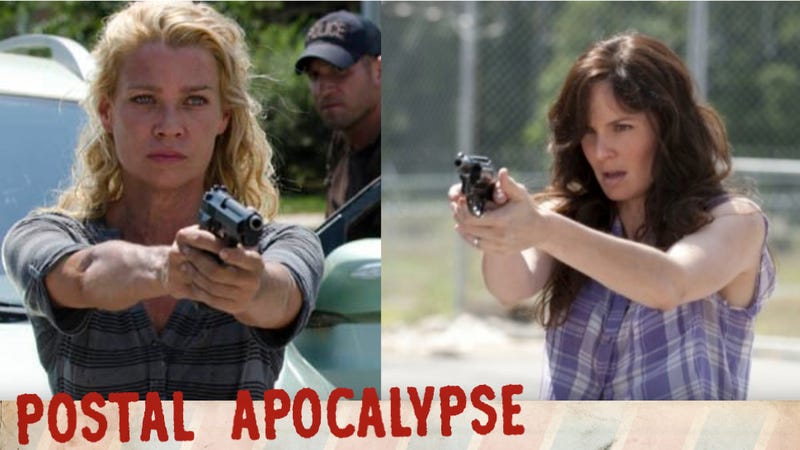 I seem to recall in 2013 there was a big deal about Thanksgiving and the first day of Hanukkah coinciding. Well, since the post-apocalypse happened so soon after that, I guess that's why we kind of ended up merging Thanksgiving, Hanukkah and Christmas into a month-long celebration of gift-giving, drinking, and good cheer (because of the gift-giving and drinking). Anyways, we call it Kwanzaa.
By the way: I apologize, but today's PA is low on letters because I ran long on answers. Let me know in the comments if you mind.
---
Women's Issues
Darnell S.:

Postman,

Reading the recent online complaints about Agents of S.H.I.E.L.D., one of the biggest issues with the series is one I with which greatly agree: Skye adds nothing to the show. This seems to be an ongoing problem with series of the last few years. There's Chloe on SGU, Laurel Lance on Arrow (weirdly her sister Sara and Sara's sidekick Sin are much better characters after just four episodes), or Gwen on Torchwood. They're not like Skyler White or Andrea on The Walking Dead, who are fully fleshed out characters hated for their bad decision making.

These characters are unlikeable because of a combination of poor character development and weak acting. The writers seem bored with them too, giving them stories that are disconnected from the events. The classic example for me is SGU where Chloe, while being stuck on a derelict spaceship on the other side of the universe, is worried that all her friends back home are phony bitches. Or Laurel's drinking problem. Or everything about Skye.

So what gives? I get that society has historically written women as damsels or objects meant to be rescued by the dashing hero, but the days of Season 1 Counselor Troi have passed us by. For every Major Kira or Sarah Connor there seems to be two Charlie Mathesons. Is this a gender thing, or general, poor character writing? What would you recommend to TV showrunners about giving us women characters we can care about?
There are a ton of reasons why people find certain female characters problematic. You've already hit upon two of them, which is to say poor writing and poor acting. Skye in Agents of SHIELD is a prime example of this; she doesn't really have any defining characteristics, she's completely unconvincing as a brilliant hacker, and yet somehow the team is bringing her along everywhere and she's the audience's surrogate. It's a recipe for annoyance, if not disaster. But to be fair, all the characters on Agents of SHIELD are equally poorly written — Melinda May gets away with it for being mysterious and badass, while we have a long history with Agent Coulson, but imagine Coulson's "Tahiti" mystery applied to, say Ward and think how much of a shit you would not give.
Another problem is when storytellers create female characters to be love interests and nothing else — meaning they're one-dimensional (and completely boring if their on-screen relationship isn't clicking). This is Laurel Lance's problem on Arrow. She was fine as Oliver's object of affection, while she was dating his best friend, but in season two they had to cool off the relationship. This made sense storytelling-wise, but left Laurel with nothing to do. Now, I actually liked her drinking storyline, because 1) it gave her a dimension beyond her relationship with Ollie, and 2) it seemed to be to be a very reasonable response to all the horrible shit she'd so recently been through. But compare that to Felicity and Black Canary and Ollie' mom and the Huntress and even Thea, and all the interesting facets those women have beyond their relationships with male characters.
But sometimes the problem is the fans, who are often unwilling to give female characters slack that they seemingly give to male characters. This seems to me to be a pretty recent phenomenon, and it's kind of disturbing. Skyler White from Breaking Bad and Game of Thrones' Sansa Stark are the two most prominent examples of this. These characters are largely hated, despite being well-written and well-acted and three-dimensional, and as far as I can determine they're hated because of these reasons.
For instance, people seem to hate Skyler in Breaking Bad because she was "a bitch" to Walt in the beginning, then became a hypocrite for reaping the benefits of Walt's meth operation while disapproving of it (I'm only midway through season 2, so I'm using this excellent Esquire article for help here). First of all, Skyler was nagging Walt 1) when her husband was constantly and obviously hiding things from her, and 2) when she discovered her husband was running an illegal meth operation. As for the latter, why is Skyler spending Walt's meth money a bigger issue than Walt running a goddamn methlab in the first place? It seems to me that the problem people have with Skyler is that people see Walt as the protagonist, and somehow think that makes him a hero, and thus Walt's irritation with Skyler becomes the audience's, despite the fact that Walt is a goddamn monster.
Sansa is hated even more, and it just boggles me. This is a girl who was fed stories of beautiful princesses and brave knights all her life, gets told she's going to marry the prince of the whole damn country, and then had her beliefs and her entire life slowly, methodically destroyed. Who wouldn't be upset by that? What teenager wouldn't be devastated by this, male or female? People compare Sansa to Arya, who seemingly holds up "better" than Sansa, but the amount of danger Arya is in never comes close to Sansa's. Arya was never beaten in front of the court by the knights she had always been told protect people. Arya is trying survive on the run, but Sansa is the most vulnerable pawn in the Game of Thrones, which is way more dangerous than serving Tywin Lannister wine at night. I understand all of Sansa's anguish, and that she's still holding it together, playing the game and even just surviving at this point only shows her immense strength.
Two other female characters I know of who were so hated were The Walking Dead's Lori and Andrea. Now, I'd say Lori was written terribly, because I can't imagine that any decent writer would intentionally make a character that unlikeable and inconsistent. Andrea just turned really preachy. But these characters are loathed with a passion that the male characters just don't get, and I'm as guilty of that as anybody. And now I wonder why I was so passionate about hating them, along with so many other people, because Dale, Shane and even Rick were also pretty annoying, but no one hated them like they did Lori and Andrea. (In retrospect, I think Lori's turn in season three as a woman who knew she fucked up badly was pretty good, but I understand it was too little, too late for most viewers after her previous shenanigans.) It actually makes me a bit uncomfortable now.