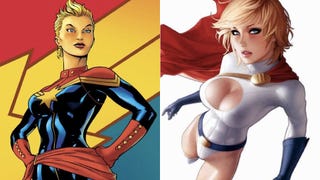 It's no secret that female characters are portrayed in a different way than their male counterparts are in comic art. But in a medium where superhero costumes are already so silly, why do we care so much about how our lady heroes dress?
Last month Janelle Asselin wrote a piece for Comic Book Resources criticizing the cover of DC's Teen Titans #1, in part focusing on the portrayal of Wonder Girl. Wonder Girl, despite being a teenaged girl, is given breast that appear to be implants, breasts that are popping out of her strapless top. What happened after Asselin posted the piece is awful, and much ink has been (rightly) devoted to it: Asselin received not just negative comments, but rape threats and other threats of violence in response to her piece.
Asselin has written about her experiences on her blog and on xoJane, and she sparked a larger discussion about how some people talk to women in the comic book industry. That's certainly a discussion that needs to be had, but so does the discussion that Asselin was originally trying to have: that there's a problem with female superheroes' outfits in mainstream comics and that it's turning a lot of folks off to those books.
Here at io9, we love a good sexy outfit. We celebrate weirdly skimpy costumes and the dated sex appeal of Star Trek duds. We appreciate a good bit of cheesecake and flirty and funny pin-up art. But seeing major superheroines running around with their breasts and buttocks hanging out? It can get exhausting after a while.