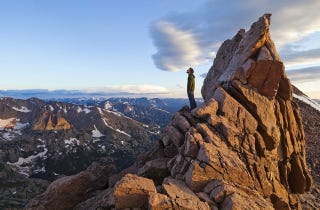 Anarcho-primitivists are the ultimate Luddites — ideologues who favor complete technological relinquishment and a return to a hunter-gatherer lifestyle. We spoke to a leading proponent to learn more about this idea and why he believes civilization was our worst mistake.
Philosopher John Zerzan wants you to get rid of all your technology — your car, your mobile phone, your computer, your appliances — the whole lot. In his perfect world, you'd be stripped off all your technological creature comforts, reduced to a lifestyle that harkens back to when our hunter-gatherer ancestors romped around the African plains.
Photo via Cast/John Zerzan/CC

You see, Zerzan is an outspoken advocate of anarcho-primitivism, a philosophical and political movement predicated under the assumption that the move from hunter-gatherer to agricultural subsistence was a stupendously awful mistake — an existential paradigm shift that subsequently gave rise to social stratification, coercion, alienation, and unchecked population growth. It's only through the abandonment of technology, and a return to "non-civilized" ways of being — a process anarcho-primitivists call "wilding" — that we can eliminate the host of social ills that now plagues the human species.
As an anarchist, Zerzan is opposed to the state, along with all forms of hierarchical and authoritarian relations. The crux of his argument, one inspired by Karl Marx and Ivan Illich, is that the advent of technologies irrevocably altered the way humans interact with each other. There's a huge difference, he argues, between simple tools that stay under the control of the user, and those technological systems that draw the user under the control of those who produce the tools. Zerzan says that technology has come under the control of an elite class, thus giving rise to alienation, domestication, and symbolic thought.
Zerzan is not alone in his views. When the radical Luddite Ted "the Unabomber" Kasczinski was on trial for killing three people and injuring 23, Zerzan became his confidant, offering support for his ideas but condemning his actions (Zerzan recently stated that he and Kasczinski are "not on terms anymore.") Radicalized groups have also sprung up promoting similar views, including a Mexican group called the Individualists Tending Toward the Wild — a group with the objective "to injure or kill scientists and researchers (by the means of whatever violent act) who ensure the Technoindustrial System continues its course." Back in 2011, this group sent several mail bombs to nanotechnology lab and researchers in Latin America, killing two people.