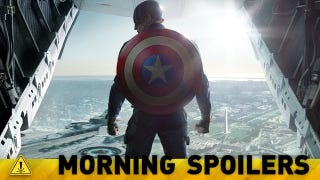 Kevin Feige talks making Cap a "fish out of water" in Captain America: The Winter Soldier. Sam Raimi's producing the movie adaptation of The Last of Us. Gareth Edwards explains how Godzilla is a character-centric movie. And there are details about Mira Sorvino's Falling Skies character. Spoilers now!
---
The Hunger Games: Mockingjay
Robert Knepper is playing Antonius in the film — a character who does not exist in the books. And Knepper, doing press for Arrow a few days ago, claimed he doesn't know anything more about the character than that, saying:
I don't even know yet! I know what I read for. I read, this was last summer... This is a huge movie. This is a huge two movies, and I know that what I got [in the casting sides] is not what I'll end up doing, they're so secretive about this.

You're going to find out when I find out. Well, I'll find out a little bit sooner than you, but I still haven't found out for sure.
[MTV]
---
Captain America: The Winter Soldier
Marvel's Kevin Feige explained why they felt that the '70s thriller idea would work for this film:
. . . I believe the key is to make [the superhero films] all different and to make them all unique and to make them all stand apart while connecting together. And that's what the comics do, you know. You can find Captain America stories that are as sort of two dimensional and red, white and blue as you would think from the costume. Then you've got great stories in the seventies and eighties and then you have the amazing [Ed] Brubaker run, which is dealing with this notion of conspiracies and authorities and what it seems to be coinciding with when Cap returned in the early sixties, and then suddenly ten years later there's Watergate and he's gone through the seventies. That's interesting stuff to me. So we're sort of pulling from all of those tales for this story. And like the first film was a Marvel superhero origin story masquerading as a World War II propaganda movie, this is a Marvel superhero sequel masquerading as a seventies political thriller. And then, frankly, all the stuff that's happening now with the NSA and the news is just — it's pretty amazing timing for us because that's much of what Cap is. That's the kind of thing Cap doesn't particularly like — that our fake comic book organization and real life national security organization seem to be doing. Which, again, is always nice when your big, entertaining, fun movie can touch into some aspect of a grounded real world — no matter how crazy that real world may be.
He also talked about making a character like Captain America work for modern audiences:
I don't mind if it feels old fashioned. I don't mind if he feels out of place. He is out of place, and he is kind of old fashioned in the modern era. I care if he feels two dimensional. I care if he feels boring, or if he feels in any way not like a fully-formed character. But in this movie, we're embracing that side. That's part of his conflict, with Fury and with some of the other members of S.H.I.E.L.D., is the fact that he has a — he's from a different place. He has a different set of values, I think. Or at least he thinks he does, initially. And we want to play into that and run towards that which creates conflict, which creates drama, which creates character.

We're careful not to make him a goofball fish out of water, you know. We don't spend a lot of time with him trying to understand what an iPhone is. . . . We have some fun with it. And frankly Cap because he's been around in the modern day for a little while post-"Avengers." He sort of has fun with peoples' expectations. He sometimes pretends not to understand something when he does. He goes, "Oh, I forget."
More at the link. [Comic Book Resources]
---
Godzilla
Director Gareth Edwards said the goal was to focus on the plot and not get distracted by the special effects:
It's very easy to get seduced by CGI. But it's just about the story and creating characters that you really care about.
To do that, the film emphasizes characters such as Bryan Cranston's nuclear physicist, Joe; Juliette Binoche as his wife, Sandra; and Aaron Taylor-Johnson as their son, Ford. The story is kicked off by Sandra apparently being trapped in an accident in a Japanese nuclear power plant and then, fifteen years later, Joe and Ford returning to the plant to investigate. [The London Evening Standard]
---
Last of Us
Sam Raimi and Screen Gems will produce a film version of the post-pandemic video game. According to Deadline, "Neil Druckmann, the Creative Director for the game, will write the script. The creative architects will be Naughty Dog co-presidents Evan Wells and Christophe Balestra, as well as Druckmann and Game Director Bruce Straley." [Deadline]
---
Once Upon a Time
They'd already announced that Rose McGowan would be back to play Cora, so a flashback to that time is clearly in the cards. We'll also be seeing a young King Leopold interacting with familiar faces. I wonder if that means more than the expected, like Cora and Rumpelstiltskin. The show will also be revealing more information about Snow's mother. [TV Guide]
---
The Vampire Diaries
Executive producer Caroline Dries explained the role of the Travelers on the show, saying:
What we've been trying to do with The Travelers is keep this undercurrent of danger through the whole season, but not quite explain what they're doing because — shocker! — it will impact all the characters in a negative way. [Near the end] of this season they'll make their agenda known and their leader will come forth.
[TV Guide]
---
Falling Skies
Mira Sorvino will be joining the cast for a few episodes as Sara, whom executive producer David Eick described as "a ballsy, brash woman with a complicated past" who proves to be a worthy foil — and ultimately a love interest — for Pope." They'll have a love-hate relationship. She survived on an isolated farm. See a photo of Sorvino in character below. [TV Guide]
---
Being Human
Here's an interview from Dweebcast with Sam Witwer on the show's final season:
---
Grimm
After her child's birth, Adalind's powers return as promised, and the newborn baby's powers will manifest in interesting new ways. And the guys in Oregon will be investigating a baby-eater. [TV Guide]
---
Revolution
The show's return will quickly explain where Aaron is, how he got there, and why he's seeing dead people. One of his visions will represent his "worst nightmare," and life won't get any better for Aaron in the real world. [TV Guide]
Here's a video interview with Matt Vairo about what the show's return has in store for Connor. [K Site TV]
Go here for more photos from episode 2.16, "Exposition Boulevard." [SpoilerTV]