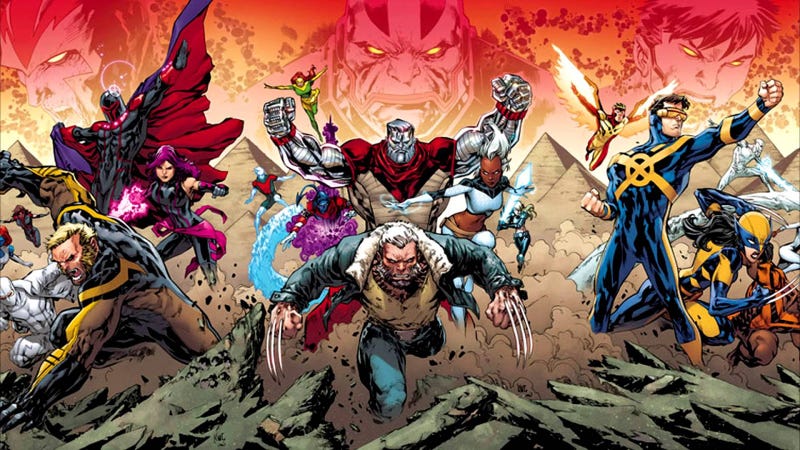 I've given them time to ship out multiple story arcs, find their footing and sketch out whatever themes and big ideas they're aiming for. But there's no denying it any more: The X-Men line just isn't exciting nowadays.

For years, the X-Men books burned as the molten, superheated core of the Marvel Universe. Co-created by Stan Lee and Jack Kirby, the original X-Men series took the nerve-wracking chrysalis of adolescence and shot it through with superhero energy and angst. Even as new characters were introduced and founding members got older, the X-titles operated on a premise that made them ripe to be read as metaphor. If you felt like society pushed you aside or said that your kind of people was worthless, then an X-Men comic spoke to you in a special way. Moreover, the various series in the X-family continually boiled with simmering sexual tension, starcrossed romance and existential hand-wringing. Characters drank, smoked, hooked up and moped in X-Men comics. They were cool, sexy and dangerous and often acted like they knew it.

It's no coincidence that the first X-Men movies from the early 2000s leaned heavily on that combination of elements. But lately the heat from the X-Men comics has died down to imperceptible levels. Since the All-New, All-Different Initiative that relaunched a new iteration of the Marvel Universe, there's been a new status quo for mutantkind.
A wandering cloud of Terrigen mist—which unlocks genetic volatility seeded by long-ago extraterrestrial experimentation—is killing mutants, while growing the ranks of the superpowered offshoot species called Inhumans. This phenomenon is also sterilizing those mutants who are still alive. The three main X-titles on offer from Marvel all deal with this bleak reality. Extraordinary X-Men features a Storm-led contingent of heroes based out of Limbo who are trying to nurture and protect what's left of the mutant race. All-New X-Men is built around the younger, time-displaced original five X-Men and others road-tripping across the world and trying to write their own futures in a future they never made. Uncanny X-Men has Magneto leading a team of rogues and killers who are taking extreme, sometimes lethal measures to stop the enemies of mutant-kind.

The thematic set-up is the same and the current Homo Superior status quo—mutants stand at the brink of extinction and the X-Men constantly battle for the whole future of their whole species—is an oft-used framework for latter-day X-narratives. The familiarity isn't the problem, though. It feels like some special ingredient is missing from the current X-recipe. The X-Men are present in the Marvel Universe. We see them in big crowd scenes in Civil War II and they've got tie-in series and pivotal roles connected to Marvel's latest blockbuster crossover.
But, in a more meaningful way, they're also absent.
The various Avengers and Inhuman teams either have interactions with mutants or mutant members on their rosters but the larger fate of mutant-kind doesn't seem to concern non-mutant heroes. In Uncanny Avengers, New Avengers or other titles with integrated rosters that have mutants, Sunspot or Rogue will cough or shudder ominously as a reminder that mutants are dying. Their lingering fatal illness is a result of the release of the Terrigen Cloud that's transforming normal folks into Inhumans.
Someone will look on worryingly but that's the extent of concern shown towards their teammates and the offshoot of humanity they belong to. Thematically, we've been here before. When the Legacy Virus threatened the lives of mutants in melodramatic storylines from the 1990s, the proceedings were mainly contained to the X-books proper. This time, the new status quo of mutants dying out is a narrative pillar of the newest iteration of the Marvel Universe but it feels like no one really cares. The continued existence of Homo Superior is only a going concern in the X-books.
In the past, the fate of mutant-kind has been the storytelling axis for universe-wide events like Avengers Vs. X-Men. Even when it hasn't been central to the larger fictional construct, X-drama has highlighted the best things about Marvel's approach to superhero genre work. I read and re-read a bunch of older X-Men comics last week, starting with the excellent 2009 New Mutants series written by Zeb Wells—which, man, is criminally underrated—and sampling various chapters of the X-Men: Second Coming crossover. These comics came out during a time when I'd drifted away from the X-books but I found everything I liked about Marvel's mutant melodrama executed to a high degree. The tone is desperate and electric and The stakes rose even higher thanks to in-fighting and philosophical clashes. Despite the dwindling numbers of the larger mutant population, the X-Men enterprise felt like a huge, well-oiled machine with a strong persona driving the collective agenda. They also still felt like a family.

The end result was both an inflection point and a reassurance that there was still life in those X-genes. But the current X-offering comes across as a flatline.

As seductive as the Hollywood-centric conspiracy theories are, it's counter-intuitive to think that Marvel wants the X-Men concept to fail in its publishing division. No matter who has the film rights to Cyclops, Wolverine, Storm, and the rest, the X-Men are still owned by Marvel. A weak X-line does them no favors and intentionally torpedoing the performance of that corner of their universe because Hollywood media rights would cost them more money than it would Fox. Besides, Marvel's got great talent on the books—but by and large, but the cylinders don't seem to be firing.