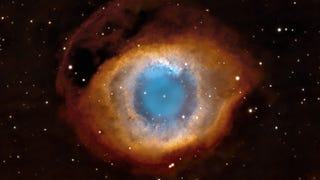 Agnostics are often characterized as ambivalent or wishy-washy fence sitters who refuse to make up their minds. But there's much more to agnosticism than these tired misconceptions, including a stricter adherence to scientific principles than those typically invoked by atheists.
Top image: "The Eye of God" Helix Nebula (NGC 7293). Credit: Hubble/NASA/Rogelio Bernal Andreo.
The current culture war doesn't leave much room for agnostics. Atheists and theists are battling it out for memetic supremacy, each side making cocksure proclamations as to whether or not God truly exists. Theists make the case for God by appealing to faith, scripture, or any number of now-archaic arguments. Atheists take the diametrically opposed stance, arguing that there's no reason to believe that a supreme being exists.