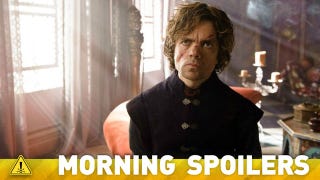 We now know how long the gap is between Return of the Jedi and Episode VII. How can you affect the direction of Captain America 3? George R.R. Martin offers solutions to the problem of Game of Thrones catching up to his books. Watch a new Godzilla trailer, and take a look Gotham's Oswald Cobblepot. Plus, there's still hope for a Pacific Rim sequel. Spoilers now!
Jurassic World
Director Colin Trevorrow told IGN that one character from the original will definitely be returning for this installment, and it's BD Wong:
I know a lot of fans want to see the original characters back. They're iconic. But I respect those actors too much to shoehorn them into this story for my own sentimental reasons. Jurassic Park isn't about the bad luck of three people who keep getting thrown into the same situation. The only reason they'd go back to that island is if the screenwriters contrived a reason for them to go. But there is a character from the first film who makes sense in our world. This hasn't been announced yet, but BD Wong will be returning as Dr. Henry Wu. He had a much larger role in the original novel, he was the engineer of this breakthrough in de-extinction. He spent two decades living in Hammond's shadow, underappreciated. We think there's more to his story.
Trevorrow also described Chris Pratt's character and his relationship with Bryce Dallas Howard:
He's a classic hero in a very modern context. He's the guy who will get you through the jungle alive – but like Malcolm, Grant and Sattler, he's an expert in a scientific field that's connected to our story. The character allows us to explore some new ideas about our relationship with these animals, without losing the humor and sense of adventure. He's a great contrast for Bryce Dallas Howard's character, who starts off very corporate, very controlled. Until the running and screaming starts. Then they need each other.
[IGN via Shock Till You Drop]
---
Star Wars
Warwick Davis is keen to return to the Star Wars franchise, and he's joking about all the ways he can make it happen:
[A] cameo would be delightful. I know one of the conceptual artists who draws all the conceptual art for the characters. I keep telling him to draw some characters who are very short, just in the hope [they'll cast me].

... I might just pop my head into Pinewood [Studios in Buckinghamshire] one day and see if they can put me in a costume and put me in a scene. That might be the way to go.
Production in London is slated to begin in May — and Disney and Lucasfilm confirm that Episode VII will take place 30 years after Return of the Jedi. They've also described the cast as "a trio of new young leads along with some very familiar faces." The cast is supposedly going to be announced soon, and we'll learn just how many of the rumors have been accurate. [StarWars.com via CNet]
---
Pacific Rim 2
Legendary Pictures' Thomas Tull raises our hopes for a sequel, telling Shock Till You Drop:
I was literally just with Guillermo on the set of Crimson Peak. We talk about it and have some pretty great ideas. If they come to fruition and we get a great script, then we're open to it. Fans seem pretty passionate about it and working with Guillermo. So, we're open to it.
---
Pan
Joe Wright's Pan has cast newcomer Levi Miller in the eponymous role. He joins Hugh Jackman as the pirate Blackbeard, Garrett Hedlund as Hook, and Rooney Mara as Tiger Lily. This version of the story will be set during World War II, following an orphan who finds himself in Neverland, destined to defeat Blackbeard. [Variety via Slashfilm]
---
Captain America
The Russo brothers are already on board for a third Captain America movie — and it sounds as though they aren't just forging ahead based on a preconceived notion of what the third film should look like. Instead, they'll be mixing it with the reaction to Captain America: The Winter Soldier. They told Comic Book Resources that this approach started in their TV work:
Anthony Russo: There's a difference between the online fanbase of the TV shows and this, because you find more diversity of opinion in this than you do in TV. TV shows, there's only one reference point — the show. For a comic book, there's so many runs. You find different fans like different versions of the character.

We certainly have carried our penchant to hear what people think about the characters, how they respond to things with the Internet for this movie, for sure. It's interesting — you have to filter it. Always. At the end of the day, what you do is you sort of listen to everything and you end up rounding back to what you want to see as a fan.

Joe Russo: We like saying this because we know it excites the fans on the message boards — we read the message boards. We do. We've gotten a lot of great ideas from [message boards]. We started doing it on "Arrested Development" with Television Without Pity. That was our test audience. We could see which characters were popping, who wasn't, what jokes they were getting, and what jokes they weren't getting. You can get a lot of ideas from the fans, and social media and the Internet is just the newest way to connect to people on an instantaneous basis.

You can't please everybody. We've learned over the years, you can only make the material based on how you feel about the material. If you try to anticipate or guess how people are going to feel about it, you're going to fuck it up. You always have to just rely on your own tastes of what we would want to see in a comic book movie about Captain America, and that's what this movie is.
Then they said that they're waiting to get started on Captain America 3:
So have you started, at least preliminarily, thinking about "Captain America 3"?

Anthony Russo: We have. It's very hard to collect our thoughts completely on it until we see how this movie's received.

Joe Russo: You need a frame of reference.

Anthony Russo: The movie still exists as the movie we wanted to make in our heads until audiences tell us what it is.
---
Godzilla
Here's the international Godzilla trailer, featuring a smattering of new footage.
---
Game of Thrones
It's not news that the TV show could catch up to the books in as little as two or three seasons. George R.R. Martin called it "alarming" in a recent interview, where he also summed up the way the next few seasons of the show could shake out:
The season that's about to debut covers the second half of the third book. The third book ['A Storm of Swords'] was so long that it had to be split into two. But there are two more books beyond that, 'A Feast for Crows' and 'A Dance with Dragons.' 'A Dance with Dragons' is itself a book that's as big as 'A Storm of Swords.' So there's potentially three more seasons there, between 'Feast' and 'Dance,' if they split into two the way they did [with 'Storms'].

Now, 'Feast' and 'Dance' take place simultaneously. So you can't do 'Feast' and then 'Dance' the way I did. You can combine them and do it chronologically. And it's my hope that they'll do it that way and then, long before they catch up with me, I'll have published 'The Winds of Winter,' which'll give me another couple years. It might be tight on the last book, 'A Dream of Spring,' as they juggernaut forward.
If they do catch up to him, Martin's in favor of either making a season focusing on events before the series, using either the "Dunk and Egg" stories or Robert Baratheon's rebellion, or a super-long Mad Men-esque break. [Vanity Fair via MTV]
It looks like HBO's released all the black and white (with a slash of red) character posters. See the full collection here. [SpoilerTV]