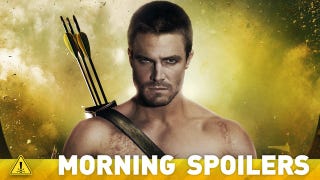 Rumor has it that Marvel's already cast Doctor Strange, and it isn't Johnny Depp. Scarlett Johansson promises that the Avengers sequel is equal parts deep and funny. Don't hold your breath for a Halo movie. One actor denies he's Gotham's Jim Gordon. Plus could Yoda play a vital role in the Star Wars sequels? Spoilers right now!
Top image: Arrow.
Star Wars
Here's a rumor to take with a grain of salt: Cosmic Book News says that Yoda will appear as a Force ghost in Episode VII to warn Luke about a rising unbalance in the Force and the need to protect the Jedi. The rumor also mentions that the new Jedi temple will have a number of holograms depicting Jedi from the previous films: Mace Windu, Obi-Wan Kenobi (Alec Guinness version), Qui-Gon Jinn, etc. [The Force.net]
---
Doctor Strange
Coming right on the heels of the rumor that Johnny Depp's up for the title role are reports that Jon Hamm has already been cast as Doctor Strange. ComicBook.com claims that they have two sources telling them the same thing, and This Is Infamous is reporting it as well. Both are also saying that Marvel sees Doctor Strange as an important film, since it'll be used to link other future movies together. The This Is Infamous story also seems to indicate that Marvel's looking for Doctor Strange to step into the void that'll be created when Robert Downey, Jr. stops being Iron Man. [This Is Infamous, Comic Book.com]
---
Avengers: Age of Ultron
Scarlett Johansson has received the script for the Avengers sequel, and she's raving about it:
I think the script is dark and it's dry. It has got this amazing one-liner, glass-cutting sense of humor. Obviously, the script is very cerebral. It doesn't lose that exciting comic book aspect that people enjoyed in the first film, but it's smart and it feels like the next installment. It doesn't feel like a rehashing. It feels like these characters are moving forward. Plotlines are moving forward. It's deep and I think that's why people really respond to the Marvel Universe, because the films are fun and exciting and have all that flashy stuff, but there's a gravity to them. People can expect that gravity this time around.
---
Halo
Microsoft released a statement making clear that there's no Halo movie on the horizon:
The Halo franchise encompasses many elements, including games, action figures, novels and more. As always, we have many projects in the works that offer us the opportunity to bring in new audiences to the franchise, as we did in the past with Halo Legends and Halo: Forward Unto Dawn. We plan to continue telling the Halo story through innovative channels, but there are no plans for a Halo motion picture at this time.
---
Mr. Peabody & Sherman
Here's a new trailer for the animated movie. [First Showing]
---
Planet of the Apes Sequel
Dawn of the Planet of the Apes isn't even out yet, and its sequel already has a release date: July 29, 2016. [Coming Soon]
---
Poltergeist
The remake by Gil Kenan also has a release date: February 13, 2015. [Coming Soon]
---
Gotham
Donal Logue's denying a report from Latino Review that he's been offered the lead role of Jim Gordon in the series. He responded on Twitter:
Not true! I wish-would be awesome (but who could top Gary Oldman?) From what I heard, Gotham catches Gordon in his late 20's.
Not a huge surprise following the statement that the show would involve "all the classic Batman characters" — but it's been confirmed that young versions of Catwoman, the Penguin, and the Riddler will be among Gotham's characters. [Den of Geek]