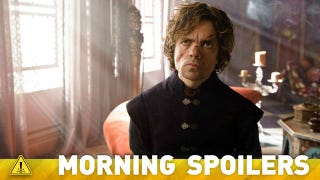 The Twelfth Doctor's not making the best impression on Clara! Will Bryan Singer direct X-Men: Apocalypse? See the first photos of Guillermo del Toro's TV series The Strain, and watch a new RoboCop viral video set at CES 2027. Plus Robert Kirkman is teasing a hopeful end to season four of The Walking Dead. Spoilers now!
X-Men: Apocalypse
Speaking with Entertainment Weekly, Bryan Singer revealed what his involvement with the next X-Men film is looking like:
I'm co-writing the story and I'm producing it. I'm negotiating to direct. We're in the process. We're trying to figure it out, schedules. My desire would be to direct it.
He also talked about whether the upcoming X-Men: Days of Future Past will have a post-credit teaser for Apocalypse:
I'm still deciding [if there will be a tease]. Something that happens in this movie causes what's going to happen in that movie.
Singer also seemed to hint that the movie would be using the comics history of Apocalypse to delve into the in-universe past of mutants, saying:
It will also address historical mutant-cy, meaning the deep past, mutant origins and things like that. It's something that's always intrigued me when we think about our Gods and our history and miracles and powers.
---
Selling Time
Fox's supernatural thriller has a director signed up: D.J. Caruso (Disturbia, I Am Number Four). He's overseeing a new draft of the script by Dan McDermott, which is apparently being rewritten in order to get Will Smith to sign up to star in it at last. He's apparently interested in playing the lead, who