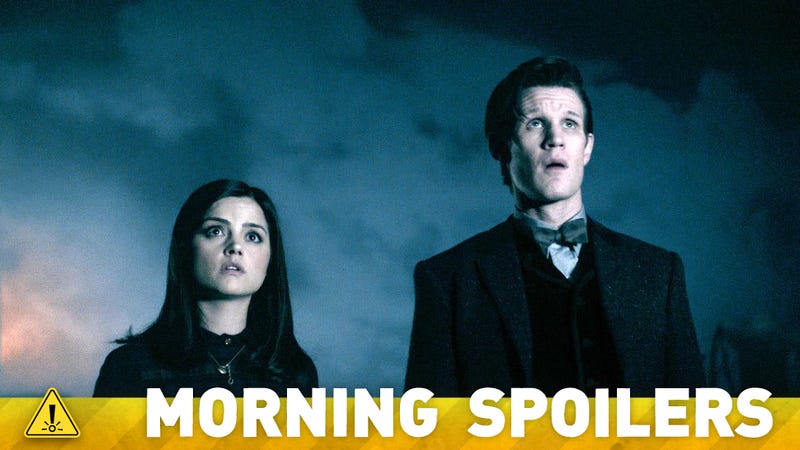 Damon Lindelof discusses the early, early status of Star Trek 3. Check out a video update from Godzilla director Gareth Edwards. Breaking Bad's Mark Margolis discusses his role as a fallen angel in Darren Aronofsky's Noah. Brad Bird won't rule out The Incredibles 2. Plus a final preview for this week's big Doctor Who finale!
Top image from Doctor Who.
Star Trek 3
Star Trek Into Darkness has only barely been released, but since it has been released, that means it's time to turn our attentions to the next Star Trek film. Nothing is yet known about the film — although it's kind of generally accepted by everyone that J.J. Abrams won't be back to direct because of his Star Wars commitments — but co-writer Damon Lindelof does offer this useful status update:
Let me answer that question by saying, the first conversations that I've had about what it would be like to mount Trek 3 What are the logistics of it? What is J.J.'s availability? When does Paramount want the movie for? What would the story be? What are Bob and Alex up to? What is Bad Robot's producorial function gonna be as it relates to Star Wars? All of those conversations have literally started over the last two days, as we're junketing. It's not a dodge, it's just the God honest truth to say to you, "I do not know." I think that nobody wants four years to pass before the next Star Trek comes out especially if this movie is successful. But there is a lot to figure out, in terms of who is going to be making that movie. And as you might imagine, it's a very tricky conversation.
[Collider]
---
Man of Steel
Here's a new promo image. You can check out the rest right here. [Coming Soon]