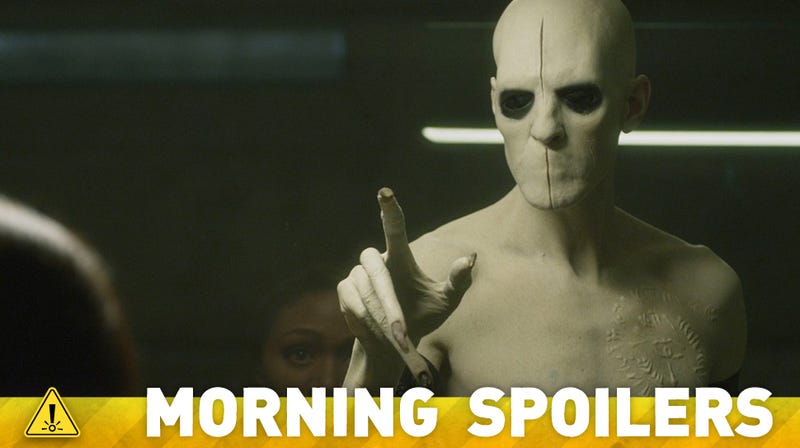 And does an audition video reveal a returning Doctor Who villain? Jessica Lange explains why she's leaving American Horror Story. And Arrow might be laying the foundations for yet another major DC character. Plus, True Blood's casting a love interest for a character you thought might be dead. Spoilers now!
Guardians of the Galaxy
Here's a video interview with Zoe Saldana, where she talks about this movie as a unique spin on the superhero movie that might make you see superheroes a whole new way. [MTV]
---
Alice in Wonderland 2
Mark your calendars, the sequel, which has Johnny Depp and Mia Wasikowska returning, is set to be released on May 27, 2016. [Slashfilm]
---
Transformers 4: Age of Extinction
GM's made a video about the design process of creating the Concept Chevrolet Camaro that will double as Bumblebee in the movie. [via Transformer World]
There's also a photo of a hoodie that popped up on the Transformers Cars Facebook page. The hoodie is purportedly one that was given to the crew of the movie, and it has the silhouette of a spiky, bulky robot that might be Grimlock. [Transformers Live Action Movie Blog]
---
How to Train Your Dragon 2
Here's the first promotional poster from How to Train Your Dragon 2. [SpoilerTV]
---
Doctor Who
Following the pre-"Day of the Doctor" storm of news is the post-"Day of the Doctor" wave of speculation and follow-up. First up is Steven Moffat talking about whether or not we'd see Peter Capaldi's Doctor be "a grumpy Scotsman," as he'd hinted before might be the case:
No, not particularly, wait and see. He hasn't actually really started, he's done his first little moment and we're working towards that Doctor, but it's quite a lengthy process and personally I think it's right to let that process run into the next part of the series as that Doctor finds himself. Matt's Doctor changed quite considerably during his first series and we shall allow Peter to find himself. So saying he's a grumpy Scotsman is a gag at the expense of the grumpy Scotsman talking to you now.
He also commented on whether there's a costume yet. "The Day of the Doctor" carefully didn't show anything of his clothes, but does that mean they don't have them picked out yet? Apparently, yes:
There is a long standing tradition that that must be done at the heart-stopping last minute. We're working on it and it's his usual thing and it will be fine. I loved it when people used to think, 'Oh look, Steven Moffat has put Karen Gillan in a mini-skirt.' Yeah what Karen Gillan does is say, 'Hey Steven what am I going to wear?'
David Bradley, who played William Hartnell in An Adventure in Time and Space, was asked if he'd be willing, in a weird bit of meta-casting, to play the First Doctor in the show. He said:
Well that's a big question, and it was put to Mark Gatiss the other night at the BFI screening and he was hedging his bets over it.

In a way we feel like we've honoured the Doctor Who history and honoured William Hartnell's memory in a way, so, if that was it, then we'd all be perfectly happy because it feels like the writing and the direction and the performances have all gone down very well with the audience.

If we left it at that I'd be perfectly happy, but if someone came up with the notion of doing it, of course, you know, it's such an honour to be in Doctor Who anyway and to have played such a great iconic actor in such an iconic part of TV history.
You can watch the video at the link. [Doctor Who Online]
Colin Baker also commented on not being in the special and on Peter Davison's sketch, "The Five(ish) Doctors Reboot," saying: