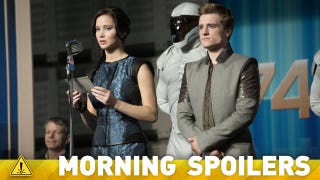 Elizabeth Olson comments on her role in Avengers: Age of Ultron, and Jennifer Lawrence explains why Katniss is a frustrating character to play. Check out new footage from The Hobbit and Doctor Who's 50th anniversary. The Walking Dead's Robert Kirkman has a brand new apocalyptic TV show. Spoilers now!
Top image: The Hunger Games: Catching Fire.
Terminator 5
We mentioned the other day that Emilia Clarke, Brie Larson, and Margot Robbie are up for the role of young Sarah Connor in this quasi-reboot. But there's also a report that Garrett Hedlund (Tron Legagcy) will test for Kyle Reese. [Hollywood Reporter]
---
The Hunger Games: Catching Fire
Jennifer Lawrence says the movie will show how hard it is to be a voice for change and be a girl from the lowest district. She also explains how, even for her, Katniss' reluctance to be a hero is frustrating:
The film has a prevalent message of "rising up." Do you think it's something that will inspire kids to activism?

If there is a younger generation that feels like they do need to speak against something, then I hope that they do. I hope that they will. It's hard to be one voice and be the singular, lowest, District 12, couldn't-get-further-away young girl. [It's hard] to just be one voice in a world that's wrong. I think that it's important to show how big that is, because they think we so easily become sheep, the society [as a whole] and especially the younger generation. We just kind of follow everybody in front of us and are very into doing what's cool without having the actual political information. And so the fact young adults love this as much as they did, that it sold as many copies as it did, was exciting and I think says a lot.

Katniss is sometimes frustrating because she's so reluctant to be the hero. As an actress, do you find it hard to exhibit that restraint?

Yeah, I mean, some. I find it frustrating 'cause I want her to be the hero. I want her to be the, you know, 'Of course you're gonna do this, of course you want to lead the rebellion. Tell them that you'll be the Mockingjay, no doubts.' But I'm playing a real girl that is stuck. The only thing that she wants, and what makes her a true hero, is she wants as little death as possible. She doesn't want a war to get revenge. She wants to fix the situation and I think the cruelty of the Capitol gets to a place where you can't not do something, you know? You have to act.
More at the link. [Slashfilm]
And here's some B-roll video, showing a bunch of behind-the-scenes video. [via SpoilerTV]
---
The Avengers: Age of Ultron
Elizabeth Olson confirmed that she'd be playing the Scarlet Witch, and also pointed out the slight weirdness of having the same actor (Aaron Taylor-Johnson) play her brother who plays her husband in the upcoming Godzilla:
We get to play husband and wife, and we get to play twin brother and sister. It's also fun because even though in 'Godzilla' we play husband and wife, we don't have a lot of scenes together. I just love him. I love his family. I love his kids. I'm so excited we get to work with each other more and to actually work with each other. I think it's going to be fun.
---
The Hobbit: The Desolation of Smaug
Here's a giant banner as well as three new TV promos. [Sci Fi Now]
---
Divergent
Here are the official descriptions of the "Dauntless" and the film's plot that accompanied the five character posters for that fraction:
In a future world where people are divided into distinct factions based on their personalities, Tris Prior is warned she is Divergent and will never fit into any one group. When she discovers a conspiracy to destroy all Divergents, she must find out what makes being Divergent so dangerous before it's too late.

One the five factions in the near future world of DIVERGENT, Dauntless are known for their fearlessness and teamwork. They are intense, bold risk takers and believe that conquering your fears is essential to the Dauntless way of life. Members often wear all black and don significant tattoos. The Dauntless guard the fence that surrounds the city of Chicago. "Faction before blood."
Go here for a complete set of posters. Below are the ones that we haven't posted yet.