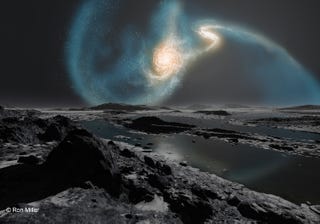 Robert Frost famously noted that,"Some say the world will end in fire / Some say in ice." Lucky us! We're pretty sure we know the answer: it's ice. But how long do we have until the end of time, and what will it look like? In this week's "Ask a Physicist," we'll find out.
Reader Tony Phan asks:
In an article a few months ago, you said that, if the Big Rip theory is valid, the universe will undergo the rip in 80 billion years. However, you state your disbelief that the Big Rip is a valid theory, being that you believe w = -1. When, then, do you think the universe will end?
Our own Annalee Newitz has long speculated about the end of the world. I, myself, have even dabbled, although my thinking tends to be on the scale of billions of years, rather than hundreds or thousands. But these thoughts tend to be human-centric, and we may or not be the final word on consciousness in our universe. So how long does life itself have, human or otherwise?