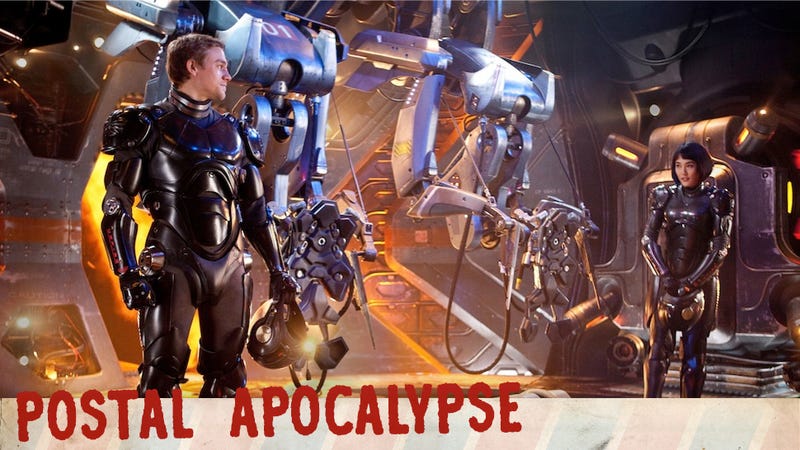 Greetings, fellow denizens of the post-apocalypse! The ol' mailbag was full before people had recovered from Comic-Con, so I expect to have plenty of questions about what went down (hint hint). Meanwhile, let's talk about Hollywood's perception of failure, the greatest superhero football team of all time and why I want to cuddle with Arrow's Stephen Amell.
---
Flop House
Andy H-D.:

Sometimes a movie opens as a smash hit or an obvious bomb. In between are movies like Pacific Rim. We can see total domestic and worldwide gross, and supposedly the budget, but usually we don't get specifics about income like On Demand, Blu-ray sales, and network TV deals; nor do we see specific expenditures on marketing, etc.

How can we tell if a movie is making "enough" money that Hollywood types might give it a sequel?

PS: I love Postal Apocalypse. Keep up the good work!
I'd love to give you some kind of math equation for this, but it's at least as much about perception as it is actual money made. Pacific Rim's big problem is that it was out-grossed by the lowest common denominator Adam Sandler's Grown-Ups 2. If Grown-Ups hadn't come out this weekend and Pacific Rim had made the same money, the doom and gloom wouldn't be quite as bad.
And while sometimes other factors make up for bad domestic gross, but sometimes they don't. Pacific Rim's international gross seems to be doing so well that the movie's fortunes aren't considered terribly dire; meanwhile, although John Carter finally recouped its money thanks to its worldwide gross, it's still considered a flop. But then sometimes you get movies that make a ton of profit and are still considered disappointments, thanks purely to criticism and overinflated expectations, which include Superman Returns, Tim Burton's Planet of the Apes, and more.