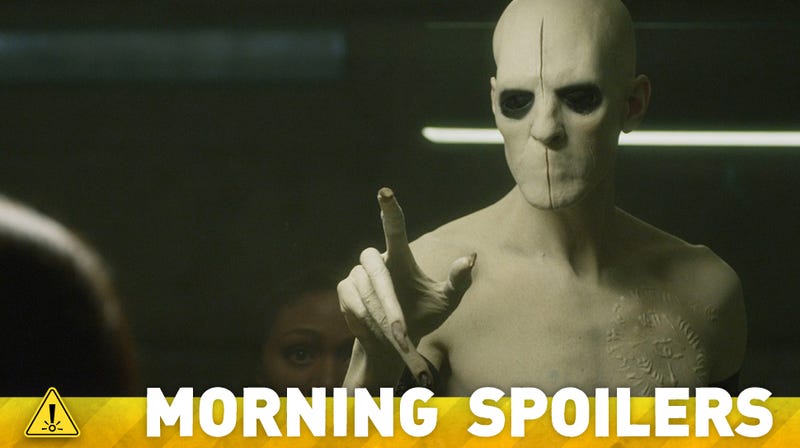 Marvel Studios President Kevin Feige puts to rest casting rumors for Ant-Man and Guardians of the Galaxy and also hints at the new Marvel characters getting movies. And there are new images from Sleepy Hollow, Being Human, and American Horror Story. Spoilers now!
Top image: Sleepy Hollow.
---
Ant-Man
Marvel Studios head, Kevin Feige, shot down the Joseph Gordon-Levitt casting rumors:
Well, nothing is true yet.

Sometimes it's because we are legitimately talking, sometimes it's just because he's a prominent actor out there now. And lots of rumors surround prominent actors.
---
Guardians of the Galaxy
Feige went on to say that the long-rumored, mostly confirmed, involvement of Vin Diesel in Guardians of the Galaxy is "close":
I think it's close. I think it's close to being official for the Groot character. But, not 100 percent yet.
---
Marvel Phase 3
Feige also hinted that the next set of Marvel movies could include Daredevil and Punisher:
We're trying to figure out what to do with Daredevil now. Punisher could show up at one point. You know, once we get characters back into the Marvel fold we don't want to do something right away, we want to do the smart thing at the smart time.
---
Thor: The Dark World
Here's a better quality version of the fourth TV spot:
---
Animal
Here's the first look at the Drew Barrymore-produced horror movie starring Eve, Paul Iacono, and Keke Palmer. [Entertainment Weekly]
---
Ender's Game
Below, watch a video on the visual effects of Ender's Game:
---
Transformers 4: Age of Extinction
Here's a number set videos from filming in Hong Kong. [via Transformers Live Action Movie Blog]
Go here for more set photos and more at the link. [Just Jared]