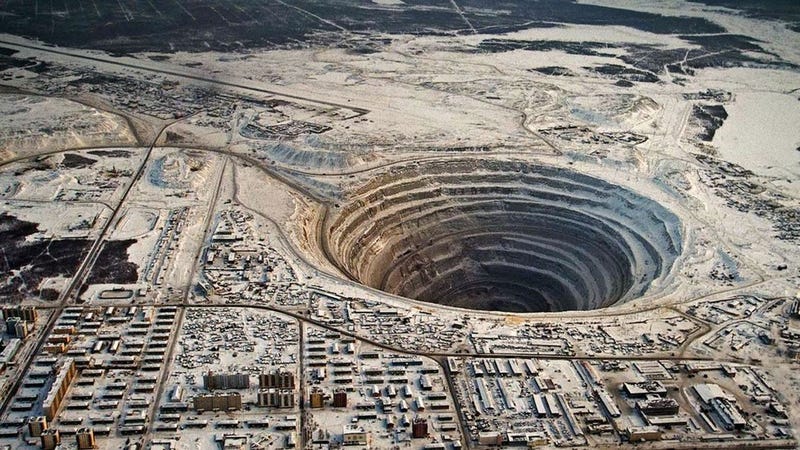 Our planet is covered in pockmarks so deep that they can be seen from space. Some were caused by asteroid strikes, but most are the result of human meddling. Here are some of the most incredible examples of the scarred Earth.
Mir or Mirny Mine, Yakutia, Russia
This open pit diamond mine was opened in 1957 and closed two years ago. In the 1960s it was producing 10 million carats (2 tons) of diamond per year, but this rate slowed to 2 milion carats (400 kg) per year. It was the first and largest diamond mine in the Soviet Union, now 1720 ft (525 m) deep and 3940 ft (1200 m) in diameter. The airspace above the mine is closed for helicopters because it sucks them with its downward air flow.
(via Galaktika and Google Maps)
Berkeley Pit, Butte, Montana
This former copper mine was opened in 1955 but it was closed in 1982. The water pumps in the nearby Kell shaft are closed, and groundwater began to fill the pit. Now the water is about 900 m (270 m) deep there and acidic (2.5 pH) like Coke and Pepsi. About 2020 the pit water starts to polluting the nearby natural groundwater.
(via Google Maps, PitWatch and vulgare)
Bingham Canyon Mine or Kennecott Copper Mine, southwest of Salt Lake City, Utah
The deepest open-pit mine of the world has been in production since 1906, and now it has a more than 0.6 miles (0.97 km) deep and 2.5 miles (4 km) wide pit. As of 2004, ore from the mine has yielded more than 17 milllion tons of copper, 715 tons (23 million ounces) of gold, 5,900 tons (190 million ouncess) of silver and 386 kt (850 million pounds) of molybdenium.
The current mine plan will expire in 2019, but the owner Rio Tinto Group would extend the life of the mine into the 2030s.
(via Google Maps and aibob)
Derweze or Darvaza, the "Door To Hell", Derweze, Turkmenistan
The site in the middle of the Karakum Desert was identified by Soviet geologists in 1971. They set up a drilling rig and started operations, but the ground collapsed into a wide crater and the rig disappeared. Some methane gases were released and that created a real danger for the people in nearby villages. So the scientists decided to burn these gases off. They thought it would take a few days. They were wrong. The gas has been burning since then without any pause. The nearest village, named Derweze, was abandoned on the orders of the Türkmenbaşy, Saparmurat Niyazow, because "it was an unpleasant sight for tourists."