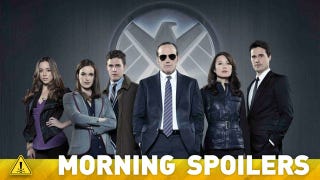 Find out why Bolivar Trask is like Hitler in X-Men: Days of Future Past. See the making of LEGO Movie and 300: Rise of an Empire. Is Black Widow already spoken for in Captain America 2? Plus a Snowpiercer clip, and news about Hunger Games and Walking Dead. Spoilers now!
X-Men: Days of Future Past
Just read this description of Days of Future Past's Bolivar Trask from Bryan Singer:
Trask is, ultimately, a peace lover. He feels that humanity will go on fighting each other unless they find some common element to unite against. Perhaps as Hitler used the Jews as a scapegoat to bond the darker parts of Europe, he's doing the same thing with mutants. There's also something interesting about his size. I'm sure he went very underestimated throughout his life. Trask comments on that — I don't know if it'll be in the final picture — but he says, 'I was underestimated, so do not underestimate these creatures.
Peter Dinklage, who plays Trask, doesn't think he's Hitler, exactly, but he sees his portrayal as tapping in to some similar self-loathing:
I am this guy who's four and a half feet tall, but my life doesn't constantly address it. With me playing that role, I had to think about that stuff. I'm not going to play my violin, but with my dwarfism, I'm a bit of a mutant. I can't move metal or anything, but I thought of it as self-loathing.

Deep down, Trask can be quite sensitive about that aspect of himself. And sorry to go back to Hitler, but he wasn't a six foot, perfect blond Aryan. He was a short, funny looking fellow. And talk about a mustache!
---
The Hunger Games: Mockingjay
Although we'd heard that Phillip Seymour Hoffman only had seven days left to film before his death, The Hollywood Reporter's saying that he had one major, emotional scene left to film. It's also saying that there's a chance that the film will work around his absence by digitally inserting images of him into some scenes. [Slashfilm]
---
Captain America: The Winter Soldier
A closer look at a recent photo of Scarlett Johansson as Black Widow reveals that she's wearing a necklace with a silver arrow. Tor.com theorizes that this is a hint at a relationship between Natasha Romanoff and Clint Barton, since it's one of the only purely decorative parts of her costume. Seems a little thin, but, then again, this is the kind of little thing that people like to slip in. [Tor.com]
---
Pompeii
While speaking about Grimm, Sasha Roiz spoke about his part in Pompeii:
I play a character called Proculus, who represents the corrupt aspect of Rome; Kiefer Sutherland and I are cohorts in that.

It's a wonderful cast. It was a really interesting production. We spent three months shooting up in Toronto, Canada. It was really physically challenging. There's a volcano, there's a love story, all this amazing components but it was physically demanding to an extent I've never experienced before, but it was really rewarding.

We were beat up quite well by the end of it.
---
Snowpiercer
Go here for a bunch of character posters from the movie, featuring Tilda Swinton, John Hurt, Chris Evans, Octavia Spencer, and Song Kang-ho. Below is a new clip. [Scified]