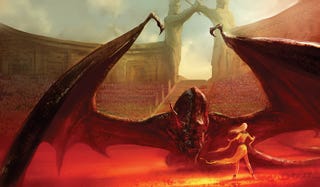 Game of Thrones is taking a week off — but that doesn't mean we can't geek out about it. Now that we're getting towards the end of season four, we're starting to get a sense of what the show is going to do with its major characters in season five... and how HBO will adapt two massive books by George R.R. Martin.
Top image: Cover art from Brazilian edition of A Dance With Dragons, art by Marc Simonetti
A year ago, we speculated about how season four would approach the tail end of Martin's book A Storm of Swords. Now things get really interesting: the next two books in the series, A Feast For Crows and A Dance With Dragons, take place more or less simultaneously, and involve a host of subplots that involve tons of new and previously minor characters.