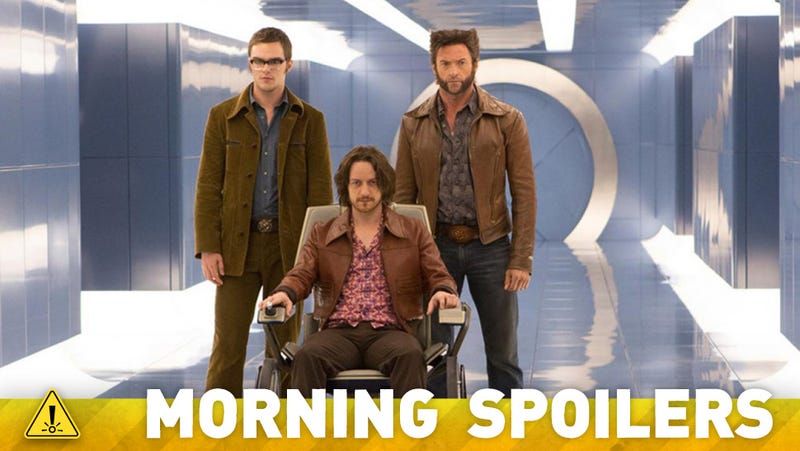 Producer Gale Anne Hurd reveals something that will last beyond this season into next on The Walking Dead. Check out a Hunger Games set photo and a Game of Thrones behind-the-scenes video — and does a Legend of Korra promo what we think it shows? Plus, new looks at Arrow, Person of Interest, and Being Human! Spoilers now!
X-Men: Days of Future Past
In an interview with Buzzfeed Brews, Ian McKellen dropped a hint about a major plot point regarding his costume, saying:
And I don't have to wear a helmet. And if you think about it, why doesn't Magneto wear a helmet in this movie? That's a clue to what's going to go on in the movie.
McKellen also said that he and Patrick Stewart's characters won't be interacting with Jennifer Lawrence's Mystique:
We didn't work with her. We socialized a little bit with her at Comic-Con. I think that's where we met her. And I was just in awe. She's a beautiful person to look at and to talk to and to be with, that's obvious.
---
The Hunger Games: Mockingjay
Here's a set photo that was tweeted:
Judging from their District 13 grey jumpsuits, and Katniss' arrows, I'd guess that they're filming the argument Gale and Katniss have when they're allowed to go hunting like they used to.
---
300: Rise of an Empire
Here's a new TV spot for this sequel that's still happening. [via Coming Soon]
---
The Walking Dead
Producer Gale Anne Hurd says that the death of Hershel is A thread that'll continue on into next season:
I think the impact of Hershel has affected everyone and will continue to do so, hopefully even beyond this season. He was a sage, he was wise, he was kind, he was selfless. That kind of loss, whether you are a blood relative like Beth and Maggie or just part of his surrogate family is just … the one thing I think that he would be proud of is the positive impact that he's had on so many of the survivors, and that the loss instilled that even more deeply. But it will also serve to challenge people not to give up hope.
She also answered whether Terminus can be trusted as a safe place by basically saying that everything in this world has issues of trust:
We're introduced to Terminus, or rather the idea of Terminus, which we first heard about on the car radio in "Isolation." The man on the tracks assured Tyreese and Carol this was a safe place to go, to take the kids. But that's how people would have described Woodbury at one point, too. So is this something they should trust, or is there way more to Terminus than the sign promises?

You certainly don't know. The prison was a real sanctuary. It was what we thought it would be. Of course, at the same time, we saw that when Tyreese and Sasha and their group first arrived there, Rick was spending a bit of time in crazy town and sent them away. I don't think anything is completely simple in this world, because it's difficult to trust everyone, or anyone, as a matter of fact.
[Yahoo!]
Speaking about last night's episode, Hurd also spoke about the development of Carl and Rick's father-son dynamic:
This is a child who's had to shoot his mother who was going to turn into a walker, and had to shoot Shane, who was like a surrogate father to him. Any relationship between a father and a son, especially a son going through puberty and becoming a teenager, is going to be fraught with difficulty. And that's amplified by the fact that they're now separated from the rest of the group, and Rick still isn't in good shape, so I think it's likely that the balance will go back and forth as to who needs who more.
Hurd also explained that the group in the house aren't so focused on finding anyone else as they are just staying alive:
What they have to do is put their own safety first. That's paramount at this point. You always have to weigh what's expedient, what's safe, and what it is you'd really like to do, and that's part of the decision making tree that all of our characters face in the separation.
On Live with Kelly and Michael, Norman Reedus said that everyone in the cast, including him, still skip to the end of the scripts to see if they survive. He also addressed the question of whether his character would get a romantic plotline:
I don't know. I'm very hesitant. I'm not really allowed to tell you, and I pretty much feel like every conversation is tracked by AMC from space.

The thing about that is that I really want to play him sort of… he's not the type of guy that's going to throw you up against a tree in the moonlight. I want him to be as awkward as possible. So once that happens, it happens, you can't go backwards. So I really want the characters to earn the [romance].
---
Legend of Korra
Yet another video of the Netherlands' 13-second trailer has been put (in awful quality) online. The split-second dragon image has generated a fair amount of speculation. One Avatar, Avatar Roku, had fire-breathing lizard pet. Similarly, Aang had Appa. Then, there's the fact that Aang and Zuko allegedly uncovered the last dragons. So, perhaps one of those dragons has managed to live without anyone spotting it before now. [Breathecast]