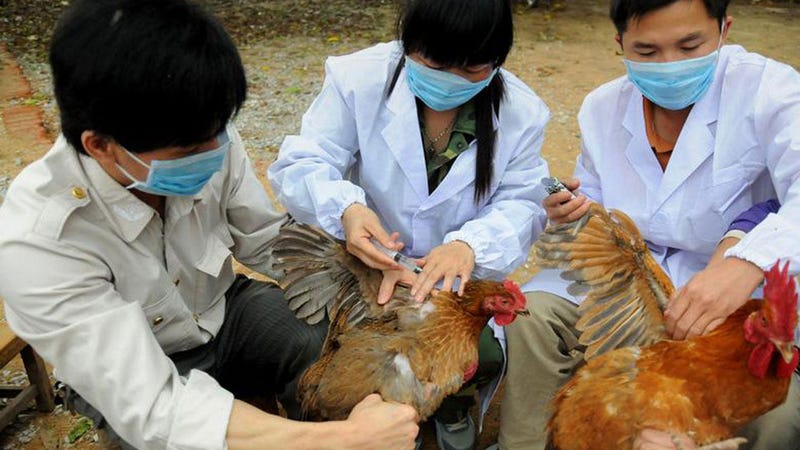 The death toll from a new flu strain in China has now reached six. It's not known if the virus can be transmitted from person to person, but based on what the experts are saying, it's a development that needs to be taken very seriously.
The first report to come in that the new avian influenza, H7N9, could infect humans arrived in February of this year. Now, six deaths later, officials in China are scrambling to contain it. No less than 16 people have now been infected by it, some of them in critical condition. Of those infected, it's not known how 11 contracted it.
As of today, this is the situation among those infected:
And the apparent rate of spread:
Charts via ECDC.
In turn, Shanghai officials have closed the Hauhau agricultural market and the slaughtering of birds has begun; as of today, more than 20,000 birds have already been killed. Starting this coming April 6, Shanghai will suspend all trade of live poultry.
Situation as of April 5, 2013; via ECDC.
According to the World Health Organization, symptoms include fever, cough, and shortness of breath, leading to severe pneumonia. But in reality, precious little is known about the new strain. The virus is suspected of jumping from birds to humans, but no evidence exists that it's transmissible from human to human. Consequently, experts are telling people to not be alarmed.
That said, scientists who have worked on the virus say a recent mutation may now allow it to move more easily from animal to animal, which could pose a heightened risk to humans. On April 4, the Center for Disease Control starting sequencing H7N9 in hopes of developing a vaccine.
Disturbingly, the new virus is harder to detect than the H5N1 virus. The new strain can infect birds without causing the disease; it produces few, if any symptoms in some birds.