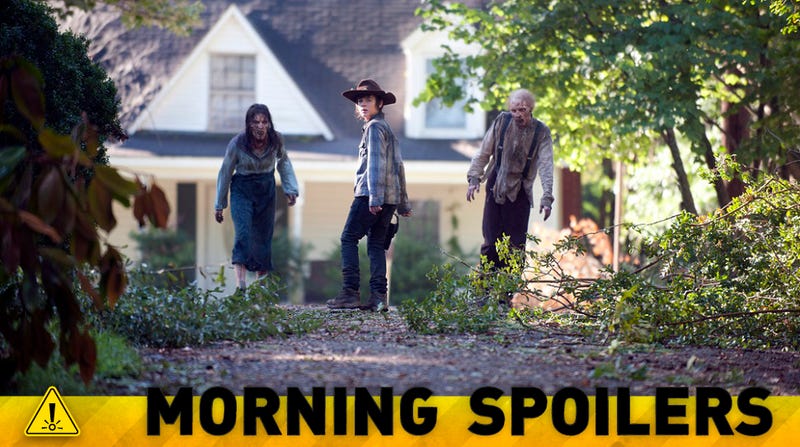 Robert Kirkman explains the thinking behind one of the mysteries of The Waking Dead's season finale. Sebastian Stan explains his hopes for the Winter Soldier's future. And Nikolaj Coster-Waldau talks the women in Jaime's life in Game of Thrones. Plus, Extant adds a guest-star from Scandal. Spoilers now!
Avengers: Age of Ultron
Photos and video from filming in South Korea shows Chris Evans in yet another look for Captain America. Here's a photo from Earth Prime Weekly's Twitter:
And a video from Comic Book Resources:
---
Captain America: The Winter Soldier
Sebastian Stan explained how the Winter Soldier acts as a foil for Captain America:
He is a direct problem for Steve Rogers' psyche because of who he used to represent to him. He's a good adversary, because he plays into Steve's Achilles' heel. We saw, after the first movie, that Steve Rogers went into this post-traumatic stress-type guilt because he wasn't able to help his best friend. When Steve comes face-to-face with the Winter Soldier, he faces a dilemma within himself that he's partially responsible for. That's already a weak point for Steve.

Then, the Winter Soldier has a weapon in the form of a metal arm that can go toe-to-toe with Cap's shield. And he's more evolved at this point. All of the skills the Winter Soldier has always had, from being a mercenary, and being skilled in terms of knife training, close hand-to-hand combat and being a really good sniper — all those things have been amplified as the Winter Soldier. He's a pretty good threat.
Stan also commented on where he'd like to see the character go:
I'll just leave it to surprise. I know that's not a very exciting answer. I enjoy playing the character. I have a lot of fun. I'd love to continue the story. In the comic books, the Winter Soldier gets to the point where he's having to deal with his own struggles of embracing this world and what has really happened and what he's been up to in the last 50 to 70 years. As an actor, that would be a great challenge and also an interesting part to work on. I'm excited to see what happens next!
---
The Last Witch Hunter
Oscar-nominated writer Melisa Wallack (Dallas Buyers Club) has been hired to polish the script for The Last Witch Hunter. The film is set to star Vin Diesel as a witch hunter who partners with a witch to defeat New York City's covens. Breck Eisner (Sahara) is directing. [Deadline]
---
X-Men: Days of Future Past
Here's a new TV spot. [Slashfilm]
---
Godzilla
Go here for a ton more new photos from the film, with a lot of destruction showcased. [Nuke the Fridge]