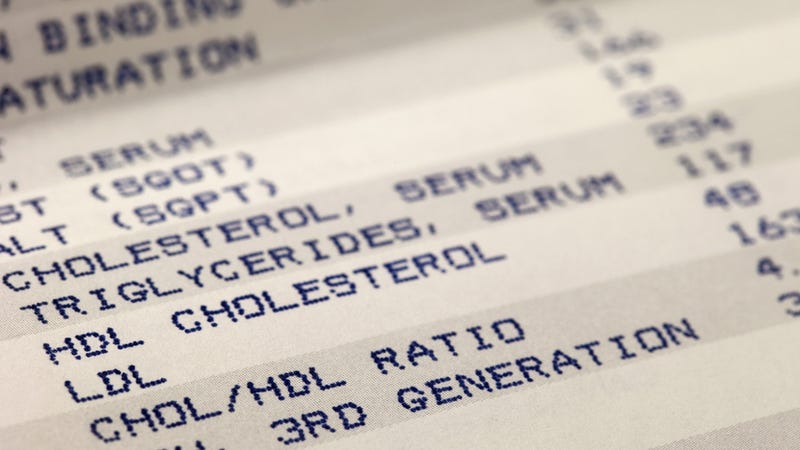 Cholesterol is bad and lowering cholesterol is good. Well, at least this is what we've been led to believe for nearly four decades. But it's a misconception — a big, fat stinking lie. Here's what we're learning about cholesterol — and what it really means to your health.
Cholesterol is the smoking gun that frequently gets linked to the onset of cardiovascular disease. The word itself has turned into a kind of pejorative, widely regarded as a near toxic substance that pervades our arteries and brings only misery.
But scientific work over the past 10 years has done much to clarify the influence of cholesterol on our health, and by consequence, dispel a number of myths associated with it.
As it turns out, the association between cholesterol and cardiovascular disease (the so-called LDL-heart disease hypothesis) is weak. Physicians are starting to accept the fact that cholesterol levels do not strongly predict our chances of developing heart disease — and there are now over a dozen studies that prove it.
What's more, these studies show that among otherwise healthy persons with no prior history or symptoms of heart disease, taking statins does nothing to help — and in fact, they might even be harming us. Indeed, when it comes to heart disease — a condition that kills about 600,000 people in the United States each year — there are other important health factors to consider.
A Primer on Cholesterol
Looking back, it's easy to understand how cholesterol became such a boogie man. Part of the problem, at least among the general public, is that its role in the body and in human health is poorly understood. Rather than seeing it as something that's crucial to life, cholesterol is oftentimes seen as a foreign and undesirable substance that's introduced into the body via certain foods.
So it's fair to ask: what exactly is cholesterol?
Cholesterol is a waxy, fat-like substance found in all cells of the body, produced by the liver to help perform thousands of bodily functions. We need some cholesterol to produce important things like hormones, vitamin D, and substances that help us digest certain foods. Without it, we wouldn't be able to maintain adequate levels of testosterone, estrogen, progesterone, and cortisol. An organic molecule, cholesterol also assists in the production of cell membranes, the covering of nerve sheaths, and much of the brain.
Dr. Mark Hymann puts it bluntly: "So if you think cholesterol is the enemy, think again. Without cholesterol, you would die. In fact, people with the lowest cholesterol as they age are at highest risk of death. Under certain circumstances, higher cholesterol can actually help to increase life span."
To get around the body, cholesterol travels through lipoproteins — small packages made of fat (lipid) on the inside, and proteins on the outside. There are two types of lipoproteins: low-density lipoproteins (LDL) and high-density lipoproteins (HDL). LDL is what's considered "bad" cholesterol, as it leads to a buildup of cholesterol in arteries, and HDL is what's considered "good" cholesterol, as it carries cholesterol from other parts of the body back to the liver. And it's our liver that removes the cholesterol from the body.
All foods containing animal fats contain cholesterol, including cheese, egg yolks, beef, pork, poultry, fish, and shrimp. But they can also reside in foods containing trans fats.
High blood cholesterol is what happens when we have too much of it in our blood, a condition that, by itself, carries no obvious signs or symptoms. The medical establishment, for the most part, believes that people who have higher blood cholesterol have an increased chance of getting coronary heart disease — excess plaque built-up inside the heart's arteries, limiting the flow of oxygen-rich blood to the heart. This irregular accumulation of plaque, which is made up of cholesterol, fat, calcium, and other substances found in the blood, is what's referred to as atherosclerosis.
Credit: National Heart, Lung, and Blood Institute.
Sometimes, if an area of plaque breaks open, it can cause a blood clot to form on the surface of the plaque. But if large enough, it can mostly or completely block blood flow through an artery — a blockage that can cause angina or a heart attack.
Conventional medical wisdom suggests that a high level of LDL puts us at an increased risk of acquiring heart disease, whereas higher levels of HDL offers a lower chance of getting heart disease.
Our levels of cholesterol can be measured by having a having a fasting lipoprotein profile, which measures total cholesterol, LDL, HDL, and triglycerides. The test report indicates cholesterol levels in milligrams per deciliter of blood (mg/dL) to determine how cholesterol levels are affecting our risk of heart disease.
Explaining the Link
Back in 1971, the Framingham Heart Study offered the first bit of evidence that elevated cholesterol was an important risk factor for heart disease. The study, a 14-year follow-up on 2,282 men and 2,845 women, indicated a relationship between blood cholesterol levels and an incidence of coronary heart disease over the range of cholesterol levels between 150 and 300 mg/dL. These findings were later reinforced by the Multiple Risk Factor Intervention Study (MRFIT).
But the association between cholesterol levels and heart disease began in earnest with the publication of the Lipid Research Clinics Primary Prevention Trial (LRCPPT) (1984) and the Helsinki Heart Study (1987) — the very first studies to suggest that reducing blood cholesterol levels could influence the onset of coronary heart disease.
In the Helsinki Heart Study, the researchers, after a five-year trial, found that slightly elevating HDL while lowering LDL could reduce the risk of coronary heart disease in middle-aged men with abnormal amount of lipids in the blood (the drug of choice was the fibric acid derivative, gemfibrozil).
Yet almost immediately, critics began to question the efficacy of these studies and the purported association. Experts complained that the reduction in coronary events between the treated groups and placebo groups were insignificant, that subjects were taking inconsistent amounts of medication, or that lifestyle factors and other issues weren't properly taken into consideration.
It's All About the Statins
More importantly, Big Pharma got into the picture. Pharmaceutical marketing and the promotion of statins,has had much to do with many of the misconceptions surrounding cholesterol.