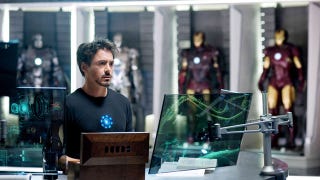 You used to hear the word "technocrat" a lot, referring to a particular kind of gadget-lover. Batman has been called a technocrat, and so have Tony Stark and the Doctor from Doctor Who. But what does this word mean, and why does it have the same suffix as "aristocrat"?
The Technocracy Movement
Before there was the term "technocrat," there was the idea of "technocracy" — a system of governance where scientists and technical experts could hold sway. In the early 1920s, William Henry Smyth wrote a book called Technocracy, which advocates the fdormation of a National Council of Scientists, who could exert "control without control," steering the economy and society without people realizing.
Smyth writes about the primitive side of humanity, represented by a couple named Irascible Strong and Trixie Cunning:
In the forest primeval, Irascible Strong, our semi-human first parent, promiscuously thrashed and smashed with his ragged tree-branch-club, joyously cracking skulls in his gory pursuit of grub and life interest; and Trixie, his less powerful and less ferocious, but more cunning mate (in her pursuit of life interest and grub), jolted his sluggard wits by her audaciously flirtatious actions; swiped some of his procurements; and in many other feminine ways acted most reprehensibly.

So it is today — merely modernized.
It's this primitive nature of ours that needs to be controlled and shaped by those who know better, scientists and engineers.
A leading light of technocracy was Frederick Winslow Taylor, an industrial theorist who influenced both Henry Ford and Lenin with his idea about the "scientific management" of industry and workers. He helped shape the assembly line and the
After the Great Depression, with the economy in shambles, technocracy seemed to offer a way to get things back on track — we could hand control over the economy to scientists, who would figure out how to run things smoothly. In 1933, famed science fiction editor Hugo Gernsback founded a magazine called Technocracy Review, which he advertised in the pages of Wonder Stories (opposite a short story called "The Robot Technocrat.")
Technocracy Review was a magazine that contained no fiction — just articles about technocracy. And, as Gary Westfahl reveals in his book Hugo Gernsback and the Century of Science Fiction and this article, the magazine didn't whole-heartedly advocate for technocracy — in one article, Gernsback complained that most of the leading advocates for technocracy were not first-rate scientists, but rather technicians. In fact, most of the statements made in support of technocracy were scientifically invalid.
Plus by the 1930s, technocracy had gotten bound up with an economic scheme to value commodities according to the amount of energy they required to produce, rather than based on supply and demand. And Gernsback didn't agree with that notion, not least because it might interfere with his own pursuit of wealth.
In the book Speaking Science Fiction, critic Farah Mendelson argues that Robert A. Heinlein's famous story "The Roads Must Roll" is "startling in its unselfconscious advocacy of technocracy," with its depiction of a massively competent hero facing off against a rabble of striking workers who are upsetting the perfect conveyer-belt world.