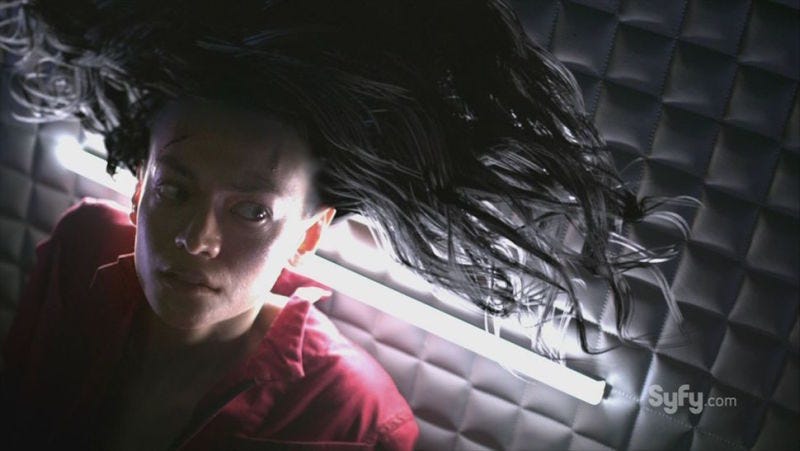 There's a reason Syfy's thrilling series The Expanse has collectively won our space geek hearts: it's jam-packed with drama, microgravity fights, and of course, dazzling trips across the solar system. But one of the most fascinating—and relevant—aspects of the show is its exploration of how our bodies will change as we settle down in off-Earth environments.
Set 200 years in the future, The Expanse imagines a solar system that's been completely colonized by humanity. It follows the lives of a police detective, a United Nations executive, a spacecraft captain and his crew, who unravel a conspiracy that could lead to all-out war between the solar system's biggest political factions, Earth, Mars, and the Outer Planets Alliance. After a gripping first season, the show returned this month for its second.
Despite the creative liberties it (frequently) takes, on the whole the show does a great job of getting the science right. This is no accident, considering the two people who wrote the books the series is based on—Daniel Abraham and Ty Franck, collectively known as James S. A. Corey—have some serious science chops, as does as the series' showrunner, Naren Shankar, who holds a PhD in electrical engineering and applied physics from Cornell University. In particular, the show offers a terrifyingly accurate portrayal of the challenges space will pose to squishy life forms adapted for life in a gravity well beneath a protective atmosphere.
One of the most obvious examples of how life in space will change our bodies is evidenced through the "Belters," who are taller and lankier than people from Earth, a consequence of having grown up in low gravity-environments in the Asteroid Belt. Scientists and science fiction authors have long speculated that, freed from the constraints of gravity, humans will stretch out into beanpoles, a phenomena modern-day astronauts get a taste of when they spend time up on the International Space Station. But due to financial constraints—and the realities of working with Earth-born actors—the Belters from the show are a bit less dramatic-looking than they are in the books.