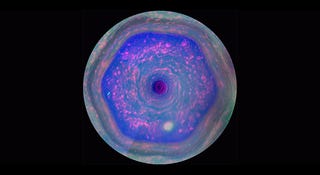 Something is going on at Saturn's North Pole — something big, swirling, and shaped like a giant hexagon. So just what is it? Carolyn Porco, the leader of Cassini's Imaging Team, explains it to us.
Top Image: NASA/JPL-Caltech/SSI/Hampton University

Porco joined us today to take our questions about life on other planets, the ocean on Enceladus, and just what on Earth (or, in this case, not) was going on with Saturn's North Pole, pictures of which were snagged by Cassini's Imaging team.