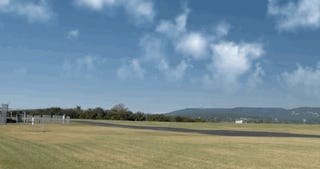 The International Space Station orbits at roughly 420 kilometers (260 miles) above the surface of the Earth. What would it look like if the Moon circled about our planet at a similar distance? Pretty damn epic, that's what.
Writes yetipc1, who created the video:
At this distance the Moon would rise in the west and set in the east, The Moon Orbits the Earth counterclockwise when viewed from the North pole looking *down*. the same direction that the earth rotates. Normally the Moon orbits much slower than the earth rotates so it rises in the east and sets in the west, however at 420km it orbits much faster, faster than the earth rotates underneath, therefore it will rise in the west and set in the east.
The Moon would also orbit very quickly, although yetipc1 notes that time in the animation has been sped up.