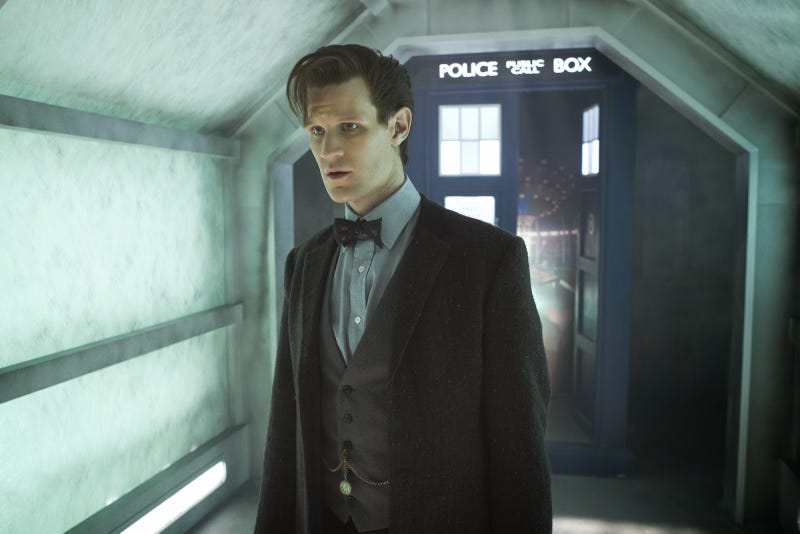 Tomorrow sees the final bow of the Eleventh Doctor, as Matt Smith regenerates into Peter Capaldi. But "The Time Of The Doctor" figures to be more than just this incarnation's last hurrah – like so many regeneration stories before it, the Christmas special is a chance to define just who this particular Doctor is, once and for all.
The fundamental appeal of a regeneration story is really a practical one: Such stories allow the show to continue after the departure of its star. There's no particularly requirement for any narrative or thematic significance beyond that, and indeed not all of Doctor Who's regenerations have been accompanied with all that much fanfare. As long as an old Doctor leaves and a new Doctor arrives, the change itself doesn't have to be the result of anything more serious or compelling than a bump on the head – which is precisely what happened to the poor Sixth Doctor in the wake of Colin Baker's firing.
But at their best, the regeneration stories offer the closing arguments for their Doctors, revealing just what each particular incarnation cares about most and what each is willing to die for. There's even an opportunity to fashion the Doctor into a kind of tragic hero, as each Doctor confronts his fatal flaw and comes to understand why it may well be time to become someone new.
And so, just as I used the occasion of the Tenth Doctor's demise to rank the regenerations – although I'll warn you right now that my opinions of some of the stories have changed quite a bit since the heady, carefree days of 2010 – the moment of the Eleventh Doctor's farewell offers a chance to explore what previous regeneration stories set out to accomplish, and what they reveal about each Doctor's era, both in-universe and behind the scenes.