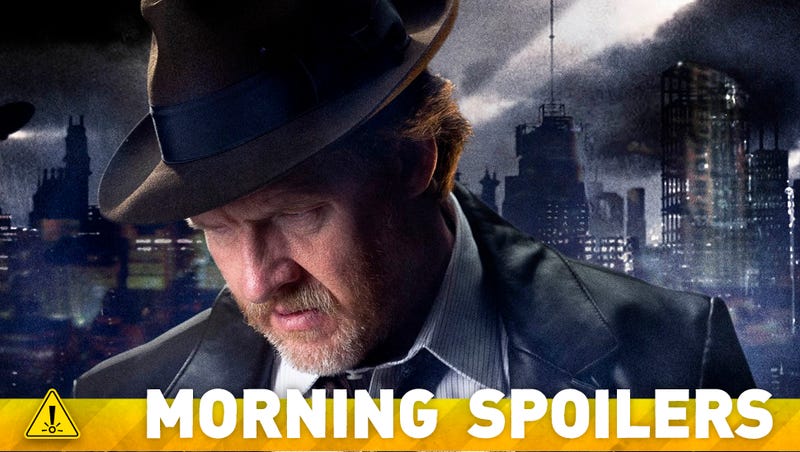 Simon Kinberg explains why Josh Trank is perfect for Star Wars. Get a complete rundown on the Fantastic Four movie. A release date for The Martian could mean delays for Prometheus 2. Felicity Smoak's mother is coming to Arrow and Gotham adds another villain to its cast. Spoilers now!
Top image: Gotham
Marvel
Woo! Let's start speculating already about what's going to come next for Guardians of the Galaxy. First up, stoking the flame, is Vin Diesel telling Yahoo!:
Marvel will have a lot of options after this movie and one of those options will be integrating teams.
This is not the first time we've been teased about a possible crossover with the Avengers, which does seem to be the end result of putting Thanos into everything. [Yahoo!]
Speaking of, director James Gunn discussed casting Josh Brolin in the part of Thanos:
Thanos needed to be this imposing character. He needed to have weight to him. So it was about finding the right person to fulfill that role, and we actually auditioned a lot of people for Thanos. That role really is a big commitment, because as everyone has guessed, Thanos is a big part of the Marvel universe going forward, and his role is likely to expand greatly. It was a big challenge to cast.
[Vulture via Comic Book Movie]
In another vein, Marvel's Kevin Feige answered the question about whether a female-led film (like Captain Marvel or a Black Widow solo film) is in the studio's future:
I very much believe that it's unfair to say, "People don't want to see movies with female heroes," then list five movies that were not very good — therefore, people didn't go to the movies because they weren't good movies, versus [because] they were female leads. And they don't mention "Hunger Games," "Frozen," "Divergent." You can go back to "Kill Bill" or "Aliens." These are all female-led movies. It can certainly be done. I hope we do it sooner rather than later. But we find ourselves in the very strange position of managing more franchises than most people have — which is a very, very good thing and we don't take for granted, but is a challenging thing. You may notice from those release dates, we have three for 2017. And that's because just the timing worked on what was sort of gearing up. But it does mean you have to put one franchise on hold for three or four years in order to introduce a new one? I don't know. Those are the kinds of chess matches we're playing right now.
---
Star Wars
Simon Kinberg explained how he was involved in getting Josh Trank to direct one of the standalone films:
I spoke very highly of Josh to the Lucasfilm guys. They were interested in him because he, like Rian [Johnson, director of Episode VIII] and like Gareth [Edwards, director of a 2016 spin-off], is very much that next generation filmmaker. He comes from a background of making a big movie without a big budget. Which I think is also, not that these movies…they'll have huge budgets, but the sort of the tradition that George [Lucas] started was somebody that came from making American Graffiti to making a huge science fiction movie. And so there was some of that sort of vibe I know Lucasfilm likes about these new filmmakers.
---
Fantastic Four
The Daily Mirror has a guide to everything we know about the movie so far. It's not much, but we do hear that Doombots are rumored to be involved. They also pull from an interview with Simon Kinberg, who is involved in both this film and the X-Men franchise, talking about whether those two films may cross over. While he cautions that they live in different universes on film so far, "I would love to see the X-Men and Fantastic Four team up if only because I'm a fan and certainly it's something we've thought about and talked about." [The Daily Mirror]
---
The Martian
Bad news for Prometheus 2: Ridley Scott's next film is going to have to be The Martian, if it's going to make the just-announced release date of November 25th, 2015. Fox had previously staked out a March 6, 2016 release date for a Scott-helmed film, but that date's been given to Tim Burton's Miss Peregrine's Home for Peculiar Children. Which leaves the Prometheus sequel in limbo, for now at least. [First Showing]