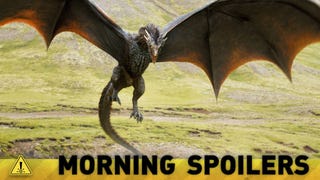 More turns on the Star Wars rumor-mobile, including information on villains and casting. There's a denial of a grim Batman v. Superman character rumor. And another of Ryan Murphy's favorite actors may be showing up on American Horror Story. Spoilers now!
Top image: Game of Thrones
Star Wars
A little bit more speculation from the rumors about Emperor Palpatine's return and the Inquisitors being the villains of Episode VII: Latino Review's now saying that they're pretty sure that no one in the film is actually called "Inquisitor," but are just a bunch of Sith. The "Inquisitor" name, it's speculated, is a retcon to deal with the prequels' whole "there are always only two Sith" thing.
Speaking of the Sith, Latino Review also hears that the filming location of Skelling Michael Island, which played host to Mark Hamill and Daisy Ridley and that the crew will return to film at later, is the Sith homeworld. And the ruins there are the control center for the planet, which is also a weapon. Latino Review does warn that the Sith homeworld was in an old version of the script, too, so it might not have survived the rewrite process.
The next rumor, which they claim is fact, is a refutation of the speculation that Domhnall Gleeson is playing Luke's son. If the rumors of Luke having been missing since just after Return of the Jedi are true, than he's been a prisoner the entire time and has no children.
And wholly speculative and untethered to reality is the notion that Andy Serkiss' character could be the Emperor. As usual, we recommend you have a Star Wars rumor salt shaker to season everything that you hear. [Latino Review via Dark Horizons]
---
Batman v. Superman
According to Batman on Film, the rumor that Scoot McNairy is playing Jimmy Olsen is not true. Also, there's no truth to the idea that Warner Bros. has banned jokes in its DC Comics movies. [Batman on Film]
---
Game of Thrones
Photos from filming at Kastel Gomilica show Maisie Williams, Mark Gatiss, Ian Beattie, and Roger Ashton-Griffiths shooting scenes in Braavos. Gatiss' Tycho Nestoris greets Mace Tyrell (Ashton-Griffiths) on the waterfront. Tyrell, who appears to be taking Harys Swyft's book role as Westeros' envoy to Braavos, is guarded by Ser Meryn Trant (Beattie). See more photos here. [Watches on the Wall, Split.com.hr]