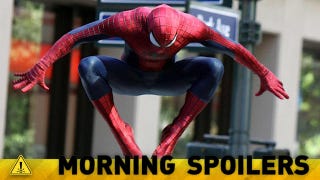 Is another villain really being teased for Amazing Spider-Man 2? And get a look at the new Transformers, some uncanny details about the Flash will be revealed in the next Arrow, and a Fringe co-star joins the 12 Monkeys TV show. Plus, new photos from Dracula. Spoilers ahead!
The Amazing Spider-Man 2
Another entry from the Daily Bugle tumblr, titled "Shake, Rattle and Rob":
By Ned Leeds, City Bureau

The NYPD are the city's greatest heroes, but sometimes even heroes are left scratching their heads. For instance, when $200,000 goes missing from the armored vault at G.K. Mason Bank.

Detective Stan Carter of the NYPD Major Crimes Unit was on scene to comment, stating, "There's still a lot we don't know, but it looks like some kind of sustained vibration literally shook the door off its hinges and ripped the walls apart in the process." Security cameras inside the bank were damaged upon the immediate forced entry of the robber, denying police a clear view of the perpetrator or the means of rupturing the vault.

When asked if the NYPD had concerns that the nature of the crime might indicate heightened super-human activity, Carter said, "There's no evidence to point to that yet. When we catch him, we don't expect anything more than a common crook with a clever toy."
Like other of these viral marketing entries, this one seems to hint at a villain who could appear in the sequel. This time, it's Shocker. [Coming Soon]
---
The Hobbit: The Desolation of Smaug
Here's a new TV spot. [via Coming Soon]
---
Transformers 4: Age of Extinction
Go here for a complete set of new photos from the movie, including Nicola Peltz being grabbed at by a stand-in for a robot hand. [Slashfilm]