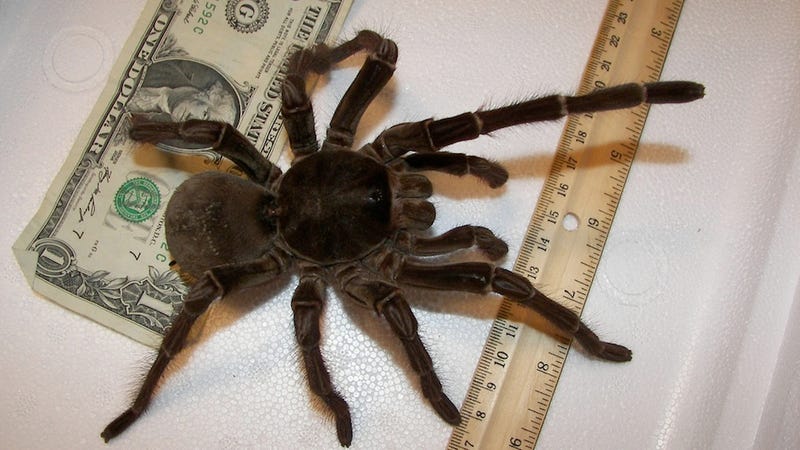 There's just something shiver-inducing about crawling animals like insects, arachnids and centipedes. And the bigger they are, the creepier they get. So, just to start your weekend off right, here are some of the world's biggest creepy crawlies.
Before we start, let's specify what we mean by "crawling animals." For the purposes of this list, we will only be looking at terrestrial (land-living) arthropods — invertebrates with pairs of jointed appendages, a segmented body and a hard exoskeleton. We will also focus on creatures whose primary mode of movement is crawling.
The Coconut Crab
The coconut crab (Birgus latro), also known as the robber crab, is a species of terrestrial hermit crab — which, by the way, are not "true crabs" — and the largest land-living arthropod in the world. It's found on a number of islands throughout the Indian and western Pacific Oceans, including Christmas Island, Fiji, Malaysia and Samoa, according to the IUCN Red List of Threatened Species.
These monstrous crabs can weigh up to almost 9 pounds (4 kg) and have a carapace that's 3 inches in length and almost 8 inches in width. They are opportunistic omnivores with a penchant for — you guessed it — coconuts. They have been known to actually climb trees to cut down coconuts if none are available on the ground. With a lot of time and help from friends, a coconut crab is actually able to open an undamaged coconut with its powerful claws, according to some reports.
Other vegetative food sources include Indian almonds, Tahitian chestnuts and fruit from the Arenga palm, among many others, though coconut crabs have also reportedly eaten various carrions, such as flying foxes, turtle hatchlings and birds. At times, they may even hunt for live meat, including each other, Christmas Island red crabs and even wild rats that stumble into their burrow homes.
Amazonian giant centipede
At around 1 foot long, the Amazonian giant centipede, or Peruvian giant yellow-leg centipede, certainly earned its scientific name, Scolopendra gigantea. Widely considered the largest species of centipede on Earth, S. gigantea can be found in South American and the Caribbean, including northern Colombia and Venezuela, Trinidad, Isla Margarita, Curaçao, and Aruba.
Research on the giant invertebrate is relatively scarce, but Scolopendra centipedes are known to prey on anything they can kill, including frogs, toads, lizards, snakes, sparrow-sized birds and rodents. In 2005, researchers documented S. gigantea climbing to the roof of a cave in Venezuela and catching bats mid-flight.
The centipede packs potent venom, able to kill small prey almost instantaneously. The venom is also toxic to humans and a bite from S. gigantea can results in intense pain, blood clots at the puncture sites and local hyperthermia, though it's not strong enough to kill a human infant.
Little Barrier Island giant weta
The largest species of weta (an insect related to grasshoppers) is Deinacrida heteracantha, more commonly known as the Little Barrier Island giant weta, or the New Zealand wetapunga. A couple of years ago, retired park ranger Mark Moffett found a pregnant female specimen that was a few inches long and weighed 2.5 ounces, which is about three times the weight of your typical house mouse.