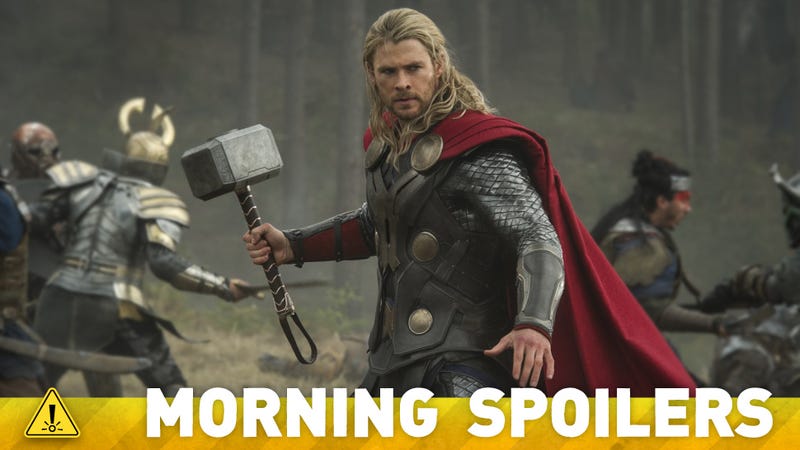 There's a description of thirty minutes of Thor 2 footage, Lee Pace went crazy playing Ronan the Accuser in Guardians of the Galaxy, and The Walking Dead adds two new cast members. Plus, new footage from The Hobbit. And is yet another old companion joining Doctor Who's 50th Anniversary special? Spoilers ahead!
Star Wars
While he says he's totally on board to return for a Blade Runner sequel, Harrison Ford's more cautious about returning to play Han Solo. On The Graham Norton Show, Ford said that he had "not quite made the choice" about whether to take a part in the new trilogy. In other news, however, he said he'd return to Indiana Jones in a "New York minute." [Moviefone]
Here's video of both Ford and Benedict Cumberbatch on The Graham Norton Show, both refusing to give concrete answers about any possible roles in the new trilogy:
In an interview with Latino Review, Jett Lucas said that the two working titles his father had for Episode VII were "Return of the Sith" and "Rise of the Jedi." Granted, that the names went to Disney with everything else is no guarantee they'll actually be used, but they do tell us the not-entirely-surprising direction that Lucas was planning to go in: a battle between the Jedi and Sith. [Latino Review]
---
The Hobbit: The Desolation of Smaug
Here's the third TV spot. [via Comic Book Movie]
---
Guardians of the Galaxy
Lee Pace is very excited to play Ronan the Accuser, describing him to Click Online:
"He's a f***ing psycho! He's a real monster. I've had the best time playing this character. I'm glad it's all on film and I never thought I could be so nuts in it!
---
Carrie
Here's a new TV spot, with another one at the link. [Comic Book Movie]
---
Thor: The Dark World
Thirty minutes of footage was shown at an event in Beijing, with a description posted, inc Chinese, at weibo.com, translated by thormovies.tumblr.com, and cleaned up by Comic Book Movie:

Just watched a 30-minute clip. It is composed of many smaller clips, so the plot is not consistent.

It begins with Loki wearing handcuffs in Asgard. Guards escort Loki to Odin's throne where Frigga tells Loki not to repeat his past mistakes. Loki retorts what is "repeat?" To punish Loki, Odin informs him that he will be permanently locked away in a dungeon, and tells him that his brother Thor will be the king.

Then the scene cuts to Thor and the Warriors Three fighting in a village. Thor and Sif have a banter. Sif is seen shielding herself from an arrow. The scene concludes with Thor smashing a stone-like creature (Kronan).

Next up, a brief dialogue scene between Thor and Heimdall, as they look at the stars from the end of the Bifrost (Rainbow Bridge).

Cut to London: Jane is on a date, with a man. Darcy comes interrupts the date by telling Jane that her machine is active once more. A nearby television surprises them with a report that Dr. Selvig has been arrested for streaking at Stonehenge.

Cut to dungeon: Loki shouts to his mom, "He's not my father!" Frigga asks him "So, I am not your mother, either?" Loki tries to be calm down, and his emotionless reply, "You are not." Frigga reaches out to Loki, and Loki reaches out to her, but it's revealed that the moment isn't real. (Sorry, that scene is a tad confusing in the transcription)

Jane and Darcy are next seen in a police station picking up Selvig. As they leave the station they see birds in the sky disappear, and then suddenly the birds come up from their feet. Dr. Selvig says, "This world is crazier than he I am."

Captives from the village scene and Loki, are all shown locked in their cells. One of the village captives pulls a hammer from his belly. He breaks out of his cell and releases the other prisoners. In doing so he kills many of the Asgardian soldiers. When the creature passes by Loki's cell, their eyes meet, and Loki tells him, "You'd better go the left stairs."

Next, Dark Elves' aircraft is seen invading Asgard. The Asgardians respond with anti-aircraft weapons. The leader of the Dark Elves of Svartalfheim, Malekith the Accursed, busts through the Asgardian palace.

Cut to Thor, the Warrior Three and Heimdall, having a discussion, trying to figure out how to get Jane out of Asgard. They know that Loki knows the secret passage, so Thor goes to Loki for help. Something happens in which Sif saves Jane, and then we see Jane slap Loki when she first meets him. Heimdall creates a diversion. Guards spot them, so Sif decides to stick around to fend them off. Sif gives Loki a warning, telling him not to betray them. They then come to Malekith's aircraft, where Volstagg sticks around to block the oncoming soldiers. Volstagg also warns Loki not to betray them.

Loki, Thor and Jane hop on the aircraft, and then Jane passes out. Something teasing takes place between Thor and Loki, and then when they arrive at some destination all three hop out of aircraft and into some other vehicle. This vehicle is used to take them through the secret passage.

When they arrive at the Dark World, with hopes of negotiating a peace, Loki asks Thor to loosen his handcuffs. Thor does so, and Loki quickly draws out a knife and stabs Thor. The God of Thunder rolls down a hillside. Loki follows after him and kicks Thor in the head. Thor calls for his hammer, Mjölnir, as he goes to reach for it Loki cuts off his right hand (bone is plainly visible).

---
Vampire Academy
Here's a video interview with actress Zoey Deutch talking about her role. [Coming Soon]
---
Noah
Speaking with the DGA, director Darren Aronofsky explained how his big-budget, live-action telling of the story of Noah will use special effects to render all those animals:
We basically went through the animal kingdom and pinpointed the body types we wanted: some pachyderms, some rodents, reptiles, and the bird kingdom. We chose the species and they were brought to life with different furs and colors. We didn't want anything fully recognizable but not completely absurd either

It was a nice badge of honor. I don't think it's the most incredible shot, but I think because of all the hair on the animals it was incredibly complicated for them. They said, 'We can only render it two or three more times so make sure those are exactly right because they take so long and are so complex.'
---
Hercules: The Legend Begins
Here's a look at Kellen Lutz as Hercules in Hercules: The Legend Begins, not to be confused with Dwayne "The Rock" Johnson's competing Hercules movie. Go to the link to see video footage from the set. [MTV]
And here's a trailer:
---
Jonathan Strange & Mr. Norrell
BBC Television's miniseries based on the Susanna Clarke novel about a magician and his student fighting against France during the Napoleonic Wars has cast its two leads: Eddie Marsan will play Norrell and Bertie Carvell will play his student, Jonathan Strange. [Broadway World]
---
Doctor Who
Take this one with a grain of salt, but an article in OK! Magazine says that the 50th Anniversary Special will see the return of Billie Piper, David Tennant, and Catherine Tate. Now, when Catherine Tate's Donna left the show, she was basically set up as never being able to see the Doctor again without her brain exploding. But they did bring her back, at a distance, for the last David Tennant episode. If she is in the 50th Anniversary, will it be like that, or will she actually play a larger role? [Bustle]
---
Agents of SHIELD
This week's final scene will see Skye using a piece of S.H.I.E.L.D. technology to check out Grant Ward's "assets." [E! Online]
Go here for a complete look at promo photos from episode four, "Eye Spy." [Buddy TV]